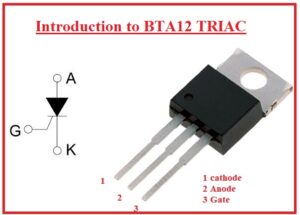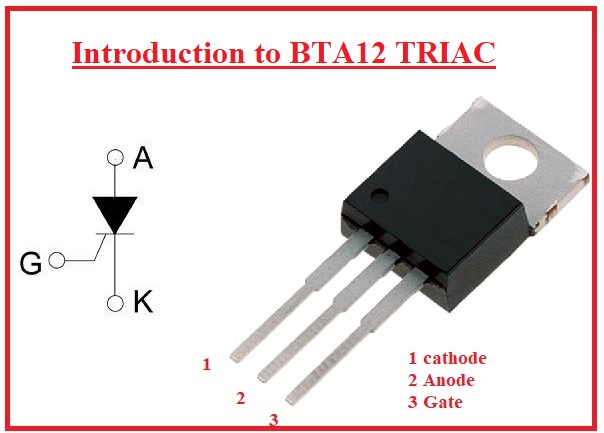 Hello readers welcome to new post. We will discuss Introduction to BTA12 TRIAC. It is snubbers logic level normally used triacs. It is a medium power consumer TRIAC created by ST Microelectronics. It has high energy dissipation operation and less holding current creating fines option for different applications such as LED dimmers and motor control circuits.
Here we will cover all basics of BTA12 TRIAC and some other related paramerts. So let get started.
Introduction to BTA12 TRIAC
The BTA12 is a medium power user TRIAC has less value of holding current so used for motor control and lED dimmers.
It comes with a larger value of surge energy that makes it suitable for inductor loads applications.
It is done since the thermal mass of die absorbs the energy released from the pulses before the temperature increment.
It is used for on and off functions in different applications like static relays induction motor starting circuits and phase regulators.
This module is also used for speed control of motor operations and is mostly preferred for inductor loads.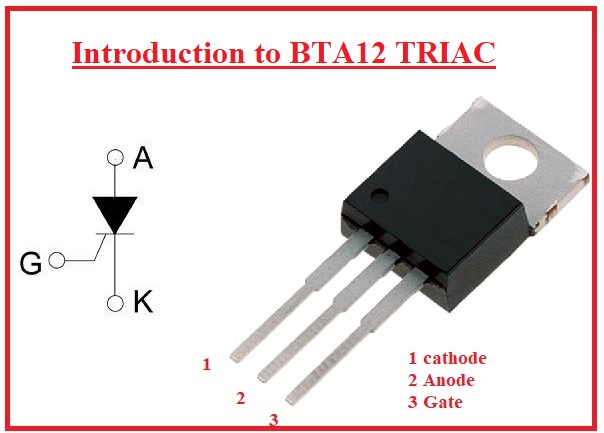 BTA12 TRIAC Features
Different features of this triac are discussed here
It is medium power user current triac
Its packaging is RoHS compatible
It is less thermal resistance insulated material
It gives the larger value of surge current.
It is six hundred volts power and twelve ampers current value have
It has less thermal resistance bonding
Comes with TO220 packaging
Twenty watts power dissipation it has
BTA12 TRIAC Pinout
The main pinout of this triac are discussed here
A1 is used to the current movement in and out
A2 current goes in and out from it
G is used for control of current flow between A1 and A2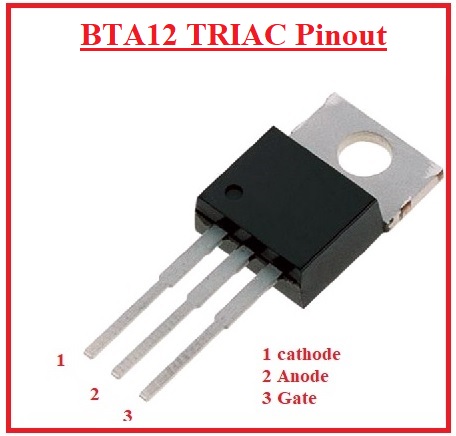 BTA12 TRIAC Applications
Applications of this triac are used here
Used in LED dimmer circuits
Part of induction motor speed control circuits
Used for inductor loads
That is all about the BTA12 and all details has been explained if you have any further query ask in comments Thanks for reading have a good day.