Hello readers welcome to new post. We will cover the details of Introduction to STWLC68. it is used for different small-level devices and has the ability to work on the five-watt output power supply and is called an integrated wireless power receiver. It is compatible with Qi 1.2.4 features to perform the inductive communication protocol.
Its efficiency is good and it is credited to less loss synchronous rectifier and fewer losses linear regulator. In this post, we will cover its details working features and some other paramerts. So let's get started Introduction to STWLC68.
Introduction to STWLC68
STWLC68 module is created by TMicroelectronics that is a group of different wireless charging integrated circuits.
This manufacturer give the different wireless devices that give the solution to the industry like high efficiency, high power transfer, and protection.
These new modules enhance the rapid power transfer and power delivery to different devices.
With the use of I2C intefacing users can get and modification of different structures.
The configured details can be save in the embedded OTP memory unit and than get automatically through power up permitting this component to operate as a standalone module
It comes in chip scale packaging
It has less value of impedance high volts synchronous rectifier and less loss regulator.
It needs less value of bill of material are considered as the finest option for small power users applications like mobile phones and tablets
STWLC68 Features
Its main features are discussed here
Its chip scale packaging increases the power dissipation
It has features to protect the over vols and over current conditions
It has I2C interfacing with the frequency of four kilohertz
It has a configuration of over volts clamping protection
It measures the correct value of current and volts for FOD devices
It consists of six general purpose input and outputs
It has eight changes ten bit analog to digital converter
For data configuration, it has OTP memory unit
It has ARM cortex microcontroller with features of thrity two-bit and sixty four megahertz
It has 3.6 volts to twenty volts programmable outputs
Its output power is five watts
It is compatible to Q1 1.2.4 inductive wireless communication protocol
STWLC68 Applications
STWLC68 Applications are explained here
It used in different wearable modules
Used in medical devices
used in GPS system'
Employed in power banks
Used in mobile phones and tablets
STWLC68 Block Diagram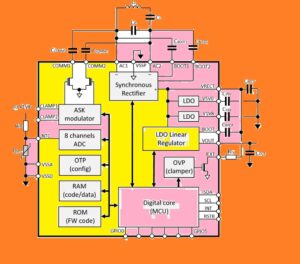 STWLC68 I2C interface
THe STWLC68 can function without use of any interfacing like a controller. For such applications where STWLC68 is connected to main parts controlled through host then two pinout SCL and SDA can be interfaced to the I2C protocol
It operates as a salve of I2C protocol and is compatible to standard and high-speed transfer of data that is one hundred Kbits/s for standard and 400Kbits/s for high speed
With the use of I2C intefacing, the extreme flexible operation can get and it also made possible to connect to internal structures.
The host regulation helps to show the status of module transfer of power
That is all about the STWLC68 all details are discussed if you want to get more ask in the comments. Thanks for reading have a nice day