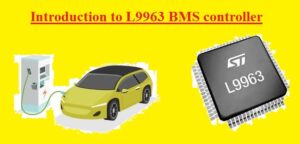 Hello, readers welcome to new post. We will discuss Introduction to L9963 BMS controller. This module is designed by STMicroelectronics that is bettery management technique useful for increasing the reliable operation and operating duration safety of electric vehicles.
It was created to fulfill the major demands of electric vehicles like volts accuracy to operate long time internal and high battery life. In this post, we will discuss its working features and some other points. So let's get started Introduction to L9963 BMS controller
Introduction to L9963 BMS controller
The L9963 is a lithium-ion battery used in electric vehicles for energy storage and is known as a monitoring and protection board.
It has about fourteen stacked battery cels that fulfill the volts demands of forty wight volts and a larger volts system.
Every cell volt can be found with a high level of accuracy with the current for onboard charging measuring.
It has the ability to monitor the seven NTC and uses the SPi protocol for data transfer.
Numeroru modules can be arranged in a chang-like arrangement and make communication to single processors through the use of transformer-isolated interfacing that results in high speed less EMI and larger distances data transmission.
It has features of passive balancing in case of normal and low power mode.
Its balancing can be eliminated on the base of inner timer interrupt.
It has 9 general purpose input and output pinouts for the regulation of outer devices.
L9963 BMS controller Features
Its main features are discussed here
It is compatible to AEC-Q100
It measures the four to fourteen cells in a series combination having 0 resynchronization among the cells.
It has SPI protocol this can make communicate for high-speed applications with 2.66megabyte per second
It can perform the hotplugging in absence of an outer zener diode
its volts operating value of 1.7 volts to 4.7 volts
It has features to monitor the seven exterior temperatures sensors
Its volts accuracy is fine than the two millivolts
it comes in the TQFP64EP package
Fully ISO26262 compliant, ASIL-D systems read
It has nine general purpose inputs and outputs with seven analog inputs used for NTC
It has 2 five volts regulators compatible to exterior loads connection
L9963 BMS controller Applications
its applications are explained here
Portable and semi-portable equipment
48 V and high-voltage battery packs
Backup energy storage systems and UPS
E-bikes, e-scooters
That is all about the L9963 BMS controller all details has explained. If you have any questions ask in the comments.