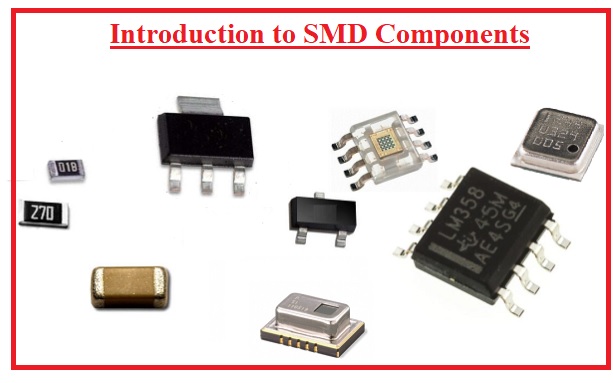 Hello, readers welcome to the new tutorial. Here we will cover the Introduction to SMD Components. SMT is surface mounted technique that is used for the creation of projects on the PCB board. The components created with the use of SMT technique is called SMD components. The area covered by the SMD devices is less than the area occupied by the through-hole components.
There is bulk component creation can be done by SMT. Different projects and devices used SMD components since readily available. There are different types of SMD components used and designed. Here we will cover all details about them and learn how we can get the SMD services from JLCPCB which is the best PCB supplier.
Best SMT services
JLCPCB is the best PCB manufacturer in China, which provides a free assembly of Your PCB.SMT is the process of installing and repairing electrical components in PCBs.
Jlcpcb staff and professional equipment can successfully lead customers to high results, especially with fast PCB production and SMT Assembly services.
The SMT and THT PCB assembly can be performed simultaneously on the same circuit board but this service works best as soon as it is directed to SMT as this technology provides more precision and reliable component parts.
JLCPCB has a smart system and a powerful data center. It can help the sticks track causes and function easily
Get your PCB manufactured for only $2, and have them assembled from $0. 
For 1-4 Layer PCBs with 1oz. Cu, HASL surface finish, you can get below special offers.
Layer              PCB Size            Qty           Price
1-2 Layer       100x100mm         5 pcs          $2
4 Layer           50x50mm            5 pcs          $2

Types of SMD Components
The packaging used by the SMD devices is somewhat complicated and very little follows the dual in line packaging.
The category used for SMD and pinout structure is available in different configurations.
There is a certain level of requirements needed for SMD such as high-value soldering temperature and some other parameters.
 Different types of SMD components are used described here.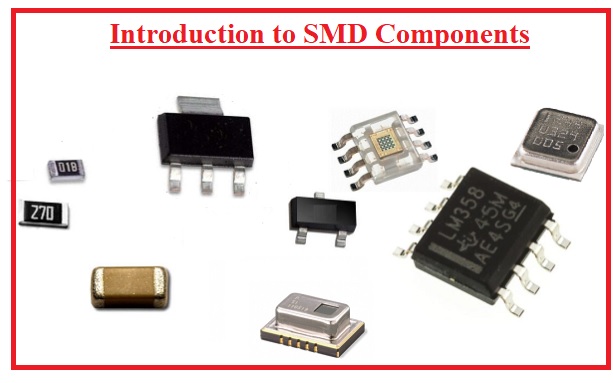 SMD Resistances
There are 2 commonly used categories of SMD resistance. The first one is a thick film and the second one is thin film.
For the creation of the thick film, resistance flate pure alumina substrate having screening resistive film is used.
The resistance value is get by changing the value of the resistive paste before doing the screening.
While the creation of thin-film resistance is done by applying the resistive element at the ceramic substrate having the protective layer at the upper side.
The value of SMD resistance is one ohm to one hundred megaohms. Their normal size is 0402, 0603, etc.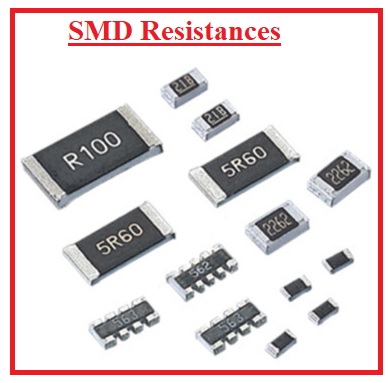 SMD Resistance Network
For replacement of series resistances, there is surface mount resistances network is used. It helps to make circuits fastly instead of placing the resistance discretely.
Currently, this network is available in SOIC packaging and the structure can be changed.
This packaging has normally sixteen to twenty pinouts.
Ceramic SMT Capacitor
Due to the absence of pins and easy configuration at the backside of the PCB board these capacitors are preferred.
The commonly used structure of this capacitor is eight-millimeter tape and reel.
Such capacitors are used for decoupling and frequency control.
Multilayer monolithic ceramic capacitors offered a high value of efficiency.
SMT capacitors are commonly used in automobiles, military tools, and aviation.
Surface Mount Tantalum Capacitors
This capacitor comes with a larger value of capacitance for a single unit with larger reliability.
There is no need of soldering for such capacitors in case of such capacitor usage.
They come in two sizes first one is the standard and the second one is an extended range
Their capacitance value of 0.1 to one hundred microfarads.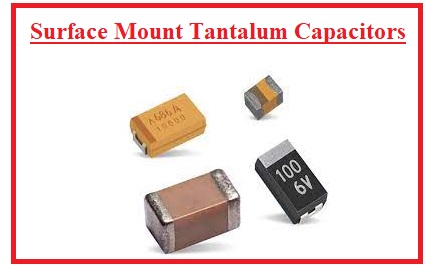 Leadless Ceramic Chip Carriers
These components come without the lead structure. In place of leads gold plated endpoint called castellations.
Their packaging decides their types. Mostly have fifty mil and some have forty twenty-five mil structures.
Small Outline Transistors
These electronic components are used in different electronic devices such as computers laptops etc.
They come in SOT23 packaging as well TSOT packaging.
Normally these components have three to four leads.
The transistor has three pinouts called SOT 23 and 4 pins called SOT143.
The packaging SOT23 and SOT 89 is very commonly used for SMT transistors.
Plastic Leaded Chip Carriers
This packaging of SMD devices helps Integrated circuits to be positioned on the PCB board through soldering and without it.
This packaging has four pinouts. It follows the J lead format. That means its lead is configured in J shape.
It is a less expensive chip carrier created with ceramic.
SMD Transformer
Such transformers are created through the use of toroidal cores. These transformers also provide different parameters like others such as power rating, voltage current, impedance, winding capacitance, etc.
That is all about the Introduction to SMD Components. I have explained different SMD components that are used in different projects and these components are helping to make less expensive and easy to assemble electronic devices configuration. Here you also have learned how you can get the SMT and SMD devices services from JLCPCB which is the best PCB supplier and SMT services provider in the world. thanks for reading have a nice day.