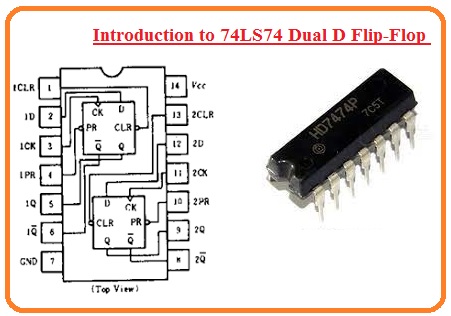 Hi, readers welcome to another interesting. In this post, we will have a detailed look at Introduction to 74LS74 Dual D Flip-Flip flop. This category of flip flop compromise of Schottky transistor transistor logic circuits configuration which helps to the production of D type flip flops having high speed. The flip flop used in this board has its own discrete inputs pinouts and with that also has discrete outputs Q and Q'.
The main and common usage of flip-flops in digital electronics in different categories of circuits and devices. in this post, we will cover its woking, pinout datasheet and some other features. So let's get started with Introduction to 74LS74 Dual D Flip-Flop.
Introduction to 74LS74 Dual D Flip-Flop
The IC 74LS74 is the double D type edge-triggered category of flip flops comprise of clear preset and complementary output terminals.
It has the ability to store data in the form of binary numbers and it also comes with features that stored data can be changed when required.
It offers specifications of the high value of operating voltage, different functioning requirements, and provides a facility to make a direct link to the CMOS, TTL, and NMOS.
The low level that exists at the preset input terminal helps to reset set the output value according to the logic levels of the provided inputs.
This category of D flip flop also called data or delay flip flops. This module provides features to get the value of D input at a certain part off the signal or clock cycle like at the falling edge of the clock signal.
The data at the D input is get through the flip flops at the positive end of the pulse.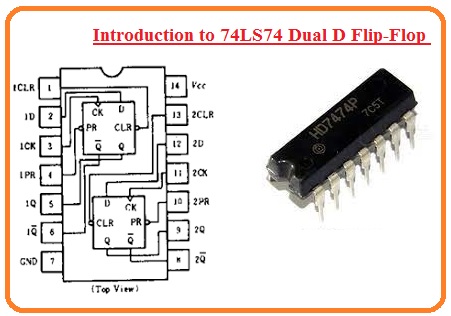 74LS74 Features
The main features of 74Ls74 are described here with the details.
The value of temperature over which it operates is two volts to fifteen volts.
The value of propagation delay for this device is forty nanoseconds.
It available in the dual D flip flop packaging integrated circuit configuration.
The value of the minimum high-level input voltage for this module is two volts.
This flip flop comes in So 14 packing and has fourteen pinouts.
The value of temperature over which it operates is zero to seventy degrees.
The value of the maximum low-level input voltage for this board is 0.8 volts.
The high-level output current value is eight amperes.
74LS74 Flip-Flop Table
Here you can see the table of 74LS74 flip flop.
74LS74 Flip-Flop Pinouts
There are fourteen pinouts of this board that are described here with the details.
1Q / 2Q: It is the output terminal of this board.
1Q'(bar) / 2Q'(bar: this pinout no six and eight and inverted pinout and called complementarily.
1CLK / 2CLK: At this pinout, a clock pulse is provided and are number three and eleven.
1CLR (bar) / 2CLR (bar): these pins used to clear data and are reset pinout and their number is one and thirteen.
1D /2D: Through these pinouts, data is provided to the flip flop and their number is two and twelve.
1PRE (bar) / 2PRE (bar): These pinouts used as inputs for flip flops and the number is four and ten.
Vss: It is pinout number seven and used as ground.
Vdd/Vcc: it is pinout number fourteen and used to provide five volts to the flip flop.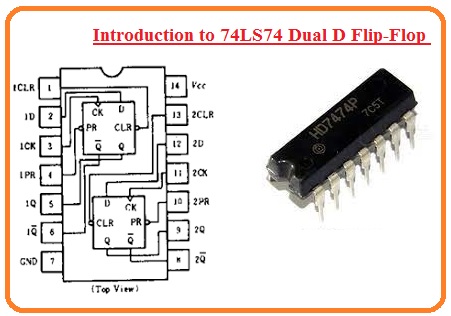 Applications of 74LS74
The main applications of this board are described here in the detail.
It used in different categories of latching instruments.
It is the main part of buffer circuits.
It used in memory units.
it used in sampling circuits.
So friends that is a detailed post about 74LS74 I tried to cover each and every aspect related to this device. If you have any further query ask in the comments. Thanks for reading. Have a nice day.