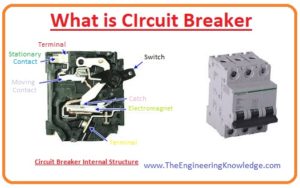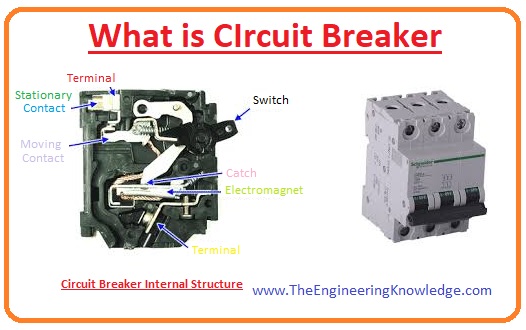 Hello, friends, I hope all of you are enjoying your life. In today's tutorial, I am going to explain What is Circuit Breaker. First-time circuit breaker was invented by Tomas Edison (who was the inventor of the United States of America) in 1879. He used this circuit breaker in lighting circuitry to minimize short circuits and overloading. Before the invention of a circuit, breaker fuses were used in different circuits but in large power and grid systems, these fuse not operate well and not provide protection to huge circuitry. Like in the grid station where large no of generators of high ratings are linked where these circuit breakers are necessary to break the faulted component from the circuitry.
Nowadays from every simple circuit to complex circuit like from our house wiring to large buildings electrical wiring or generation system, distribution system all use a circuit breaker to protect their load from short circuit or overloading conditions. There are many types of circuit breakers like a miniature circuit breaker, SF6, oil circuit breaker, air circuit breaker, vacuum circuit breaker. In today's post, we will have a look at circuit breaker construction, principle, applications, types, and some related parameters. So let's get started with What is Circuit Breaker.
What is Circuit Breaker
The circuit breaker is an electrical device that used in a different circuit to provide protection from different faults like a short circuit, it breaks the circuit when a fault occurs.
It operates both mechanically and the automatic way its construction is such that it automatically brake circuit.
During the construction of the breaker, it keeps in mind at which current value it will operate as nowadays such circuit are working in our power system that needs a high accuracy circuit breaker.
In simple words, the main operation of a circuit breaker is to stop the flow of current when a fault occurs.
Its advantage over a fuse is that after its operation of removal of a fault it starts operation again while fuse must be changed after fault detection.
There are numerous ratings of circuit breakers available for small size devices that used less current to larger circuits like switchgear panel that used high voltage.
If we look according to its operation then it is known as OCPD (over current protection dive).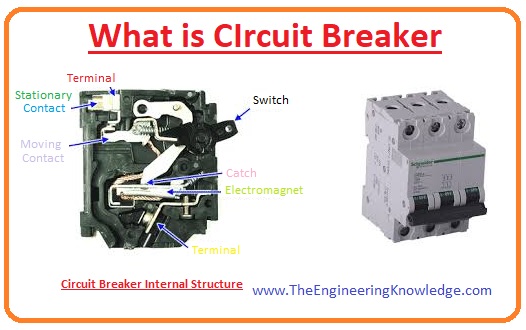 Working of Circuit Breaker
The operation of the circuit breaker is simple it first of all senses the fault occurs in the circuit.
In small circuits or less voltage rating breakers sensing of fault is done by the breaker itself then it breaks the circuit.
Normally heating produced by the large current of fault used for that detection purpose.
While in large circuits or in grid stations for sensing of fault protection relay are used that detect a fault and send a signal to breaker then it breaks the circuit.
For this large system, there is a need of separate power source like a battery, but some circuit breakers get supply from current transformers.
After sensing the fault occurring in a circuit the connections of breakers get separated, for these contacts separation mechanical energy provided by the spring or compressed air apply force on these contacts to open.
The magnetic field of current produced by the fault also used for the tripping of breaker.
In smaller circuit breakers there is a manually operated lever is installed to remove the load or again join the contacts that separated during a fault.
While in larger circuit breakers motors are installed to provide energy to the spring that was used during tripping.
The breaker's contact has the ability to bear the heat produced during fault and can also bear the heat of arc then generates during the breaking of the circuit.
For that purpose, the materials used for the construction of breaker contacts are copper, silver or some other material that have the ability to bear high temperature like alloys of metals.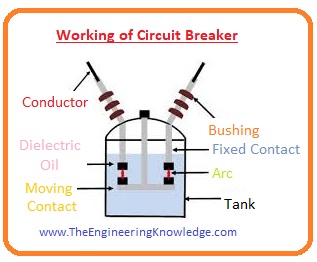 Circuit Breaker Ratings
The circuit breakers are constructed with different ratings according to their applications and circuits for which they will install.
The ratings of MCB (miniature circuit breaker) are fixed if we want to vary its rating then there is a need to change the complete structure of the breaker.
But larger rating breakers have the ability to change its operation rating let's suppose we have a breaker of four hundred ratings it can also set to operate at three hundred ampere current.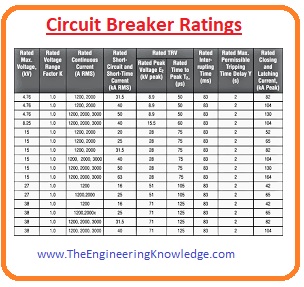 Circuit Breaker Types
There are different types of circuit breakers that are classified according to structure, tripping type, and voltage ratings.
Low voltage circuit Breaker
Less voltage circuit breakers are used normally used in our homes, offices, and some small industries. Some small rating circuit breakers are discussed here.
MCB (Miniature Circuit Breaker): the rating of this breaker is to the one twenty-five amperes. Tripping current of this breaker is not adjustable.
MCCB (Molded Case Circuit Breaker): the rating of these breakers is sixteen hundred amperes. Its operation is thermal and non-thermal.
Solid-State Circuit Breaker
This type of circuit breaker is the new invention in circuit breaker categories that changed from mechanical to electrical the other name of a solid-state circuit breaker is a digital circuit breaker.
It provides many benefits over the other breakers like its operating time is us, and its fault detecting power is also high also its operating life is also longer.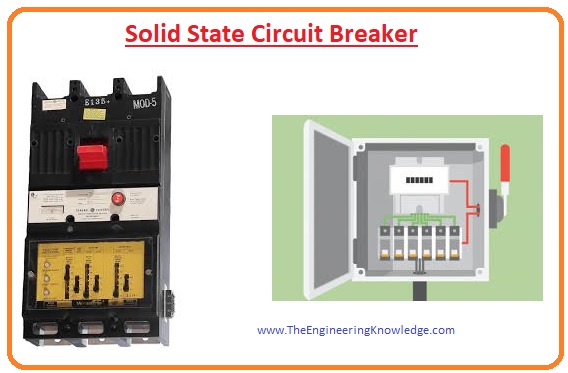 Magnetic circuit breakers
This type of circuit breaker uses a solenoid for tripping purposes of disconnect connections the force used for disconnection is depended on the amount of current.
In some circuit breakers instead of solenoid electromagnetic force is used for tripping.
The contacts of breakers are fastened to each other through a latch. With the increment of a current due fault, the solenoid's pull releases the latch, due to the connections of breakers gets off.
The breakers are mostly used in the United States of America.
Thermal-Magnetic Circuit Breaker
The thermal-magnetic circuit breaker is mostly used in DBs (distribution board).
In this circuit breaker, there are 2 types of elements are used for the detection of faults.
This ist element is an electromagnet that used to detect the large surging current in the circuitry. Surging current is very dangerous for our home appliances like air conditioners, freezers, etc.
The electromagnet operates very fastly when surge current flow through the circuit and disconnects the circuit.
The 2nd detection element in this circuit is the thermal bimetallic strip work for the less level electric surges or for overloading conditions.
When a fault occurs then current passes through this bimetallic strip due to current heating produce that bends the strip and removes from the circuitry.
Its popularity due to that it responds very fast to a fault and starts its operation when fault removed.
That is the detailed tutorial on the circuit breaker I have mentioned each and everything related to a circuit breaker in this post. If you have any issues and queries related to circuit breakers ask in comments. Thanks for reading. See you in the next tutorial.