Hello, readers welcome to new tutorial. In this post, we will learn PCB Assembly with Automated Machines. PCB construction for different projects needed a very accurate and good process to make each and every connection very fine configuration. Since different components such as SMD are difficult to position on the board. Different components of small configurations need high-level accuracy.
PCBWAY is a very experienced and advanced PCB manufacturer that handles difficult and easy PCB assembly in a very fine way. Their automated industries and factory equipped with advanced-level machines for the assembly of SMD and through-hole elements very well and best way. In this post, we will discuss all automated machines used by the PCBWAY with detail.  PCBWAY offers some special offers to their users through these offers you can get three benefits as no matter PCBWay supply parts, or customer supplies, or just supply some. The PCBA service of this supplier also has features prototyping and small volume production that causes PCBWAY to become one-stop of their customer where they get available PCB with PCBA. Such features help customers to make their projects in small time intervals.. The engineers that are working in the PCBWAY are well trained and provide the best services to their customers and provide products in a given time. the main features provided by the PCBWAY related to the PCBA are SMT assembly, through-hole assembly, BGA (Ball-Grid-Array) assembly.
they offer both leaded and lead-free (RoHS Compliant) assembly services for their customers. Select one to best fit your PCB and the parts on the PCB. They prefer you supply all the parts for the PCBA services. For this send them all elements through the BOM file and all details of your project. They offer Turn-key PCBA service. they do not mark up on the cost of the parts Their minimum is as low as 5 pieces.  They can accept components as small as 01005, 0201,0402.
PCB Assembly with Automated Machines
Pick-and-place PCB assembly machine
This machine is considered as a very significant portion of the PCB manufacturing process. This machine gets the small size elements through a reel that has numerous SMD parts and places them on board where solder paste is placed.
There is some types of machine that needed large elements. For finding the faults on the board there is the camera is positioned on the top having a vacuum tip
The machine rotates the elements and the camera get a photo of the component ideas about the components positioned can be get.
This process is helpful to make the configuration of the board and component an accurate place
Reflow Oven
The physical configuration of this machine is like the conveyor belt ovens. In this oven, the boards is placed and temperatures is set to a required value to melt the solder then slowly cool done at a certain angle. After that solder paste is positioned
Solder paste stencil machine
In this machine for PCB assembly, there is the application of solder paste. This machine used the solder paste in form of small size balls like soldiers that are suspended in the flux paste.
The operation of solder paste stencil machine is like silkscreen printing where solder paste is only positioned on the place where components have to solder.
Solder paste inspection machine
The use of this machine ensures that the solder paste used in the stencil machine is fulfilling the IPC requirements or not.
To avoid any defect due to thickness and quantity failure this machine is used. There are only some PCB manufacture that used this machine and PCBWAY is one of them
Automatic Optical Inspection (AOI) Machine
So inspection of solder joints there is usage of rainbow lights having different colors.  First of all the board which is already tested.
After that get the complete collection of photos of every one solder point through the use of lights existing in the machines which glow at different angles.
Light reflected through the surface of glowing solder permits to observe the two-dimensional picture like the three dimensional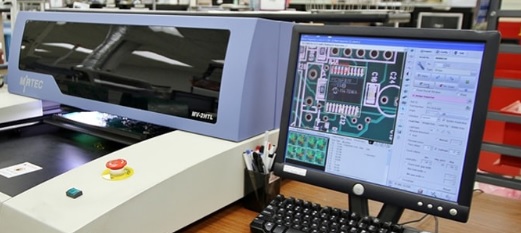 X-ray Machine
It is employed for soldering of BGA here all points of chip below the board. It observes the every single point of BGA to ensure the accuracy of solder
Wave soldering PCB assembly machine
It is a configuration like large size pole having liquid solder. Boards exist on the upper portion of liquid solder and liquid solder-like wave configuration positioned on the lower part of the board and exist on every metallic component.
It makes the tent-like connection arrangements among the components pinouts and board. It is not used for green color solder
That is all about the PCB Assembly with Automated Machines. Here different types of machines used at the PCBWAY is explained. PCBWAY is considered as very well known and experienced PCB manufactures in the market that never disappoints their customer's reards their requirements and offered the different PCB boards and related services on special precise and also have special offers their Christmas offers are working get hurry to avail them. Thanks for reading have a nice day.