Hello, readers welcome to the new post. In this post, we will learn the introduction to TL084CN Quad Op-Amp. It is JFET configured at input operational amplifier has a large value of impedance at the input and less value of offset current and voltage.
Its configuration is like the TL074 with the difference that has a large value of noise immunity. Here we will discuss its working pinout features and some related parameters. So let get started.
Introduction to TL084CN Quad Op-Amp
TL084 is a less power-consuming operating amplifier that has operational amplifiers. That has a large value of high gain and frequency compensation module
The large value of impedance inputs offered the JFET configuration which was used for less value of input bias and offset current
It operates on the voltage range from seven to thirty-six volts also has the ability to operate on a dual power supply
It is mostly employed in amplifiers circuits. Its common applications are voltage comparator filters and voltage-controlled oscillators
Has ability to handle the frequency range of three to four megahertz
The TL084 comes in a quad packaging operational amplifier that means assembled with 4 operational amplifiers.
Its main feature is that has the ability to operate with high volts JFET configuration
Due to preamplifier configuration used for less noise and harmonic distortion.

TL084CN Features
There are main features it has that are described here
It consists of fourteen pinout and dual in line packaging.
It has protection for output short circuit
Frequency bandwidth is four megahertz
Its gain value is two hundred
CMRR is eight six decibels
The value of input offset volts is three millivolts
Biased current at the input is twenty pico ampers
It has four operational amplifiers
TL084CN Pinout
Its main pinout are discussed here
Pin 13 Vcc- is used for negative supply to operational amplifier
Pin 4 is used to give positive supply to operational amplifier
Pins 3, 5 12 14 are used input non inverting 4
2, 6, 11 15 are inverting input pinouts
1, 7 10 16 are operational amplifiers output pinout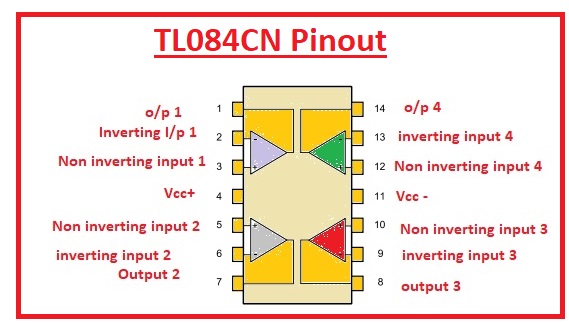 TL084CN Applications
Its main applications are listed here
It used in the audio amplifier circuit configuration
It used multistage voltage generators circuits
It employed in buffer circuits
That is all about the TL084CN Quad Op-Amp. I have explained all parameters about this module if you have any further query ask in comments. Thanks for reading have a good day