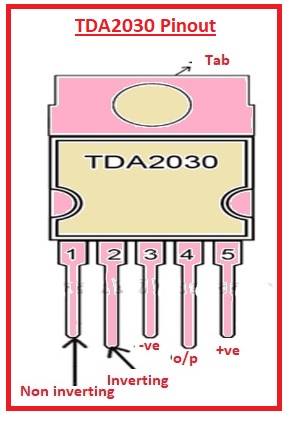 Hello, readers welcome to the new post. Here we will learn Introduction to TDA2030. This module is considered a monolithic IC that comes with a petawatt power configuration employed for less power usage applications. Normally its output is about fourteen watts. It gives a large value of output current and has less value of harmonic and cross-over distortion.
It used in the short circuit protection system IN this post we will learn the different parameters related to pinout working and applications. So let get started with Introduction to TDA2030
Introduction to TDA2030
The TDA2030 is an audio amplifier integrated circuit that has the ability to give the power value up to twenty watts
It has the ability to operate the four-ohm speaker at twelve-watt power and eight-ohm speaker at eight watts
For limiting the dissipation power there is inner protection circuit exist in this module
It is used to operate the class AB amplifiers for less value frequency.
Its less cost small physical area and output power up to two hundred watts make it useful for amplifier circuits
It also operates for stable functions and offered the good sensitivity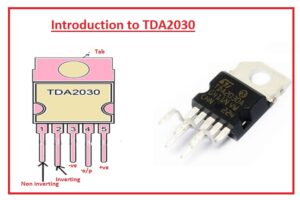 TDA2030 Features
The main features of these modules are listed here
It comes with To220 packaging having five pinout
It also used on the breadboard for circuit creation
It consists of thermal and short circuit protection
Can operate on power ranges from six to thirty-six volts
Output power is twenty watts
TDA2030 Pinout
There are five pinouts it has that are described here
Pin 1 is a noninverting input terminal
Pin 2 is inverting input
Pin 3 is connected ground
Pin 4 used as output
Pin 5 output is taken here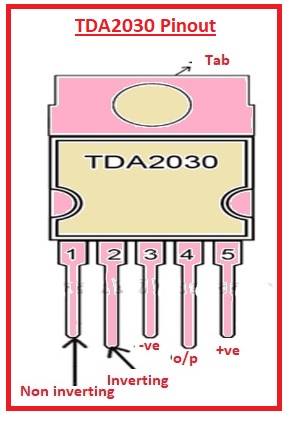 TDA2030 Applications
Main applications of TDA2030 are listed here
It used in the audio speaker circuits
It comes with a feature to operate on the dual power supply
The high power amplifier used this module
Class ab amplifiers consist of this module
That is all about the TDA2030. Have explained all parameters related to this amplifier. If you have any further query ask in the comments. See you in next post.