Thin-film technology uses semiconductor and microsystem techniques to make circuit boards on ceramic or organic materials. Contemplated for the production of printed circuit boards and for the integration of electronic components, thin-film technology also has applications in the field of microelectronic integrated circuits (MEMS) and photonics.
Compared with conventional printed circuit boards and thick-film substrates, however, substrates in thin-film technology usually entail higher costs.
There are numerous PCB manufacturers are working and offering the thing film technology at different rates and features. But there is the most reliable and trustable PCB supplier that offered all types of PCB services in affordable prices and with high quality. That PCB supplier is
PCBWAY
.
PCBWAY
are capable of producing 14-layer PCB, and have a wide range of services, including HDI boards, aluminum PCB, flex and solid flexible PCB. Also, they have many options for customizing your boards, based on your special requirements regarding the colors of the mask sold and the finishing procedures, etc. In addition, some of the advanced PCBs they have produced are widely used in automobiles, medical equipment. , as well as space equipment.
A thin-film technology is a type of electronics that uses microsystem processes to produce circuit boards on ceramic or organic materials. The "thin" part refers to the thickness of the material forming the circuit board, which could be as thin as one micrometer (1/1000th of a millimeter).
The "film" part refers to the construction method, which consists of layers and layers of material stacked on other materials. The most common types are copper oxide (CuO), copper indium gallium diselenide (CIGS), indium tin oxide (ITO) and so on.
The most notable applications for thin film technology include large-scale solar PV. Thin-film technology has been used in many applications, including printed circuit boards, sensors, light sources, hearing aids and microfluidic systems. As a result of advances in thin-film manufacturing technologies over recent years, global production capacity for electronics has increased from less than 1% in 2010 to nearly 4% in 2017.
Advantages and disadvantages of thin-film technology
Thin-film technology used semiconductor and microsystem  processes to design organic materials. Compared with conventional printed circuit boards and thick-film substrates, however, substrates in thin-film technology usually entail higher costs, as they are not as robust.
Thin-film circuits can be fabricated using highly complex patterning techniques, which allows for sophisticated manufacturing of large areas of high density and coverage. This is a significant advantage over other technologies like photolithography and metal deposition that are typically used for making large areas of circuit boards.
Proponents of thin-film technology claim that the thinner the layers of substrate material, the better the performance and quality control can be achieved at high productivity rates. Thin-film technology has a number of advantages:
• Low cost: Thin-film circuits generally have lower costs than thick-film circuitry. Some reports suggest that they may cost as little as 10% to 20% less than thick-film circuitry
• Low power consumption: Using thinner materials than thick film allows more power to be consumed per unit area than thicker materials with the same area size and density (the more power consumed per square centimeter area, the higher the cost). Very low voltages (1V or less) can be used in thin film circuits.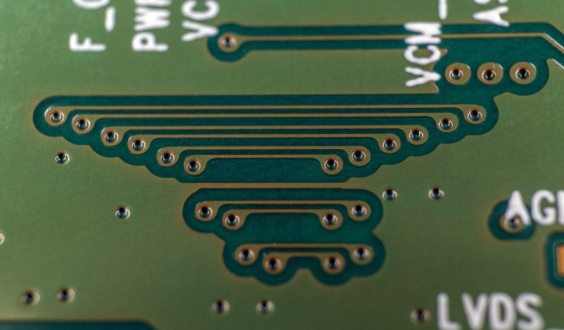 • Advantages for commercial designers: Thin film fabrication is not only cheaper and easier to do but also enables greater flexibility in design configurations such as multiple chips on a chip (MCM) or multi path interconnects (MPI). Users can choose from a variety of different types of contacts according to their specific needs.[20]
Advantages for hobbyists/makers: In addition to these advantages, there are many advantages for hobbyists/makers who want to design or fabricate their own circuits on a thin film substrate. These include:
• Features typical only available from commercial products: The anti corrosion coating is often impossible without specialized techniques.[21] Many hobbyists/makers cannot afford special equipment nor do they have access to special equipment such as some commercial part manufacturers do.[22] A common misconception is that all PCBs have anti corrosion coatings (they don't), but this is untrue since some hobbyist/maker PCBs do have anti corrosion coatings — sometimes it's just a very simple one step process.[23] As mentioned above though, many hobbyist/maker PCBs
Applications of thin-film technology
A thin film circuit board (TFCB) is a piece of printed circuit board that is thinner than regular boards. This makes it possible to fit more on the same area, and to put circuits on it that are of smaller size.
TFCBs are also known as thin-film technology products, thin-film substrate, or thin-film circuit boards. They can be used in many fields, including both consumer electronics and industrial applications.
• The surface of the board is unprinted and the circuits are etched onto the surface (or "printed"). The printed circuit wires that connect the components to each other can be made transparent (for example with an anti-reflective coating). The radiation characteristics of products manufactured using this process are much better than those made using conventional PCB technology. These properties make it an attractive alternative for a wide range of applications, including televisions, computers and mobile phones (particularly smartphones). These TFCBs have even come to replace thick-film substrate products in some cases — especially those in high-frequency wireless communications
• The surface of the substrate is twisted around itself at right angles to the principal axis of the board. In this way, heat generated by connections between components is dissipated without causing any visible marks or creases on the substrate surface. This provides improved heat dissipation properties because less energy is lost when electronic components run from hot to cold or vice versa .
In contrast with conventional PCBs, TFCBs can be manufactured on a variety of substrates including glass, polymers such as polyimide and polyamide polymer sheets and organic polymers such as polyaniline but unlike PCBs these materials usually do not cause any environmental pollution issues . As such they have been increasingly used for electronic devices used in mobile phones, medical equipment, consumer electronics, military electronics, computer peripherals , construction equipment, automotive wiring harnesses, kitchen appliances, industrial machinery, thermoelectrics & semiconductors etc.
Thin-film technology uses semiconductor and microsystem technology processes to produce circuit boards on ceramic or organic materials. In particular, the use of nanopatterned silicon carbide (SiC) and nitrogen-doped epitaxial silicon (Nd:Si) enables the fabrication of thin-film circuit boards with high electrical and thermal conductivity.
One way to read this is that the technology used for building circuits on silicon is 'better' in some way — for example, it has higher electrical conductivity — but it's important to bear in mind that these are relatively simple things:
A tiny amount of surface area on a board can be useful, but if you want to significantly increase the area, you need to add more components (including transistors).