Hello readers welcome to the new post. In this post, we will discuss How to Change the Battery in Nissan Key Fob | Everything You Need to Know. Advanced automotive technology helped to make out life easy and simple and one such innovation is the key fob. Nissan key fobs are important for locking,  and starting the car by passing the button. Though like other battery power devices, the key fob's battery also discharged. In this post, we will over the details of how to change the battery existing in the Nissan Key fob. So let's get started with How to Change Battery in Nissan Key Fob
Introduction to Nissan Key Fob
Before discussing the battery replacement process, it is important to have an understanding of the importance of the fob. Nissan keys do not have wire, it is handheld devices that come with a button to control many functions remotely. There is a radio frequency used for communication with the central lock system of the car, making easy access to your vehicles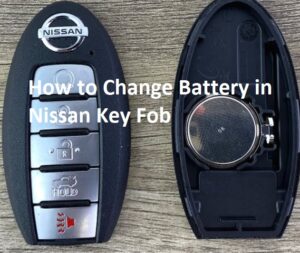 Signs of a Weak Key Fob Battery
Reduced signal range: The remote function of the key fob does not work as effectively as needs your vehicle to be closed.
Unresponsive buttons: There can be delays or no response after pressing the buttons of key fobs.
Warning light: Some Nissan models come with a low battery indicator on the dashboard that gives an indication for battery replacement
How to Check Key Fob Battery Life
Stand close to the Nisasn vehicle and make sure that you are in the range of the key fob to operate.
Push the buttons on the key fob for checking their response fastly
If there is a delay or no response replace the battery
Purchasing a New Battery
For replacing the key for battery purchase compatible replacement option. it is suggested to select the original Nissan key fob battery or high-quality other options. It makes sure good performance and increases the operating life of key fob
Step-by-Step Guide: Changing the Battery in a Nissan Key Fob
Step 1: Gather the Necessary Tools
Before starting get the necessary tool like a small flat-head screwdriver and a replacement battery normally a CR2032 lithium battery
Step 2: Locate the Key Fob's Battery Compartment
Flip the key fob to the backside and find the small slot or groove in the edge.  It is the access point of the battery compartment
Step 3: Open the Key Fob
Cuasitonaly insert the late head screwdriver int the slot or groove and twist it open. Be careful to avoid damage to the key fob during this process
Step 4: Remove the Old Battery
When the key fob is open you can see an older battery. Remove it carefully with the use of a screwdriver in your hand and dispose of it accurately.
Step 5: Insert the New Battery
Get the replacement battery and put it in the specified point, making sure the positive side at up
Step 6: Reassemble the Key Fob
Close the key fob carefully, and align the two halves accurately, give it a press to snap it in the place
Step 7: Test the Key Fob
When battery replacement is completed and reassembly of the key fob check all buttons to make sure they are working accurately
How to Change the Battery in a Nissan Key Fob
 emergency key removal. At the back side of the key fob, there is a small release latch. Press this latch and the emergency key will come out.
Remove the key housing. There are 2 small slots on any side of a key fob. Put a small flathead screwdriver in these slots and twist it. It will release the key housing
Removal of the old battery. The older battery is a CR2032 battery. Remove it from the key fob Carefully
Insert the new battery. Ensure that the negative side of the battery face is toward down
Replace the key housing. Slide the key housing in place and press down till click in place.
 emergency key replacement. Push the emergency key back into the key fob.
Here are some more instruction
If you are removing the old battery take measures to avoid it losing.
When you inserted the new battery ensure that is accurately aligned
If you facing any trouble removing the key housing, there can be pliers used to grip the sides of the housing and pray it
How Long Does a Car Key Fob Battery Last?
The average operating life of a car key fob battery is about three to four years. Though there are many factors that can affect battery life, like battery types, frequency use, and conditions where the fob is stored
Here are some of the parameters that can affect the operation of a car key fob battery:
The type of battery: CR2032 battery is a commonly used battery in car key fobs. These batteries generally work for three to four years. Though there are some key fobs that use other batteries, like coin cell batteries or lithium batteries. That has less operating life
The frequency of use: The common use of a key fob is faster than the battery drain. If you use a key fob after some time battery work for more duration
The environment in which the key fob is stored: If there is a key fob stored in hor or humid environment the battery will drain fastly
What Are the Signs a Car Key Fob Battery Is Dying?
The key fob's range is decreasing. it means that you have to close the car for the key fob to work
The key fob's buttons are not responding as quickly. There are buttons to press much time for proper work
The key fob's lights are not as bright. The lights existing on the key fob can be dim or not on at all
The key fob is not locking or unlock your car. The key fob can not be able to send the signal to the car for locking or unlocking the door
How Can You Get Help With Nissan Key Fob Battery Replacement?
Do it yourself. If you can follow instruction and has the ability to use a screwdriver, replace the battery in the key fob. There is a different online tutorial for the battery replacement process
Take it to a dealership. It can be changed by the local Nissan dealership. It is an easy option but it can be costly the doing it yourself
Go to an independent auto repair shop. Differnt auto repair ships also provide key fob battery replacement services. It is good  if you want to get services from that services provider
Order a replacement battery online. There can be online orders placed for key fobs. When you have a battery can follow the guidelines that come with it to replace the battery yourself
WHAT BATTERY DOES A NISSAN KEY FOB TAKE?
Mostly Nissan key fobs take a Cr2032 battery. It is a small round shape and the button cell battery comes with 200 dia and 3.2 mm thickness. The CR2032 battery is a 3-volt battery, which is the voltage used by the Nissan key fob
Some other types of batteries that can be used  are
CR2025: it is a small-size type of CR2032 battery. It is 18mm dia and 2.5mm thick.
CR2016: It is a larger size type of  CR2032 battery. It is 24mm in dia and 3.2mm in thickness
Tips for Extending Key Fob Battery Life
Put the fob away from the high temperature.
Save it from exposing the moisture.
There can be a physical key used manually to lock or unlock the car if need
Common Mistakes to Avoid
The use of high force during the opening of the key fob causes damage.
Not insert the new battery in incorrect orientation..
Not mishandle the component of key fob
Why Choose Genuine Nissan Key Fob Batteries
Compatibility: Genuine Nissan key fob batteries have guaranteed that is compatible with your car key fob. It means that they fill accurate fit and provide the required voltage
Performance: Nissan key fob batteries are made to offer long-lasting performance. They normally work for two or three years based on the use
Quality: These batteries are created with the use of quality materials. it shows that they are less to get corroded
Convenience: Genuine Nissan key fob batteries can get at Nissan dealerships. it helps to get them easily
Faqs
What kind of battery does a Nissan key fob take?
The commonly used battery for a Nissan key fob is a CR2032. Though, some models can uses CR2025 battery.
What to do if Nissan key fob battery dies?
If key fob battery dies, you will not  be able to use the keyless entry paramters,like locking and unlocking your car doors, or starting car with the push-button ignition. You have to repalce battery to use these paramters again
How do you change the battery in a 2023 Nissan key fob?
Here are the steps that you have to follow to cahgne  battery in a 2023 Nissan key fob:

1. Locate the battery compartment on the key fob.

2. Use a small flathead screwdriver to pry open the battery compartment.

3. Remove the old battery and dispose of it correctly

4. Insert the new battery, ensure that the positive and negative terminals are facing the accurate direcion

5. Close the battery compartment.
Does a Nissan key fob have to be reprogrammed after replacing the battery?
In soem conditiosn there is need to reprogram key fob after repalemtn of battery. Though if ther is new model of car, you can reprogramm key fob towork it accuratly
How do I reprogram my key fob after replacing my battery?
For reprogram key fob after repalcing battery you have to follow osme istruction given in manual. The certain istructions will cahnges based on car model
Can I start my Nissan with a dead key fob?
Yes, there can start Nissan with dead key fob in some condition. if car comes with physical key slot, there can insert key and start car manually. THough if car not have phsycal key slot, you are not able to start cart without key fob
How do you manually start a car with a key fob?
For manually starting th car with key fob there is need to isert key in igngition and turn it on state. Then press start button for strating the car
Can I start my car without the key fob?
Somtime you are not able to start car without key fob.it is genrally possible if yoru caomes with new car with build in backup key fob. For startting car without key of ther is need to insert backup key   fob in ignition and move it to on state. Press teh button to start car
How do you open a keyless car with a dead battery?
If in keyless car has a physical key slot,it can be insert the key and open the car door manually. Though, if car does not have a physical key slot,there is need to use a slim jim or other tool to open the door.