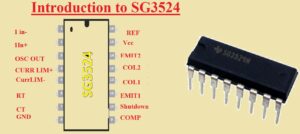 Hello, guys welcome to new post. We will discuss Introduction to SG3524. The SG3524 is an integrated circuit that comes with different functions such as power supply regulation, and inverter. It is used as a control module in different high-power devices.
In this post, we will discuss different parameters of  SG3524 pinout features and applications. So let's get started Introduction to SG3524.
Introduction to SG3524
The SG2524 is an integrated circuit that is used in different applications like regulating power supply inverter circuit and switching regulators.
It is created for any type of polarity transformer coupled dc to dc converter, voltage doubler circuit having not transformer.
It is also used for circuits where polarity change is needed with frequency fixing and the PWM technique
Its complementary output needs single and push-pull circuits.
This module comes with a regulator, amplifiers for error, pulse string flip flop, and oscillator.
It also has 2 no committed pass transistors, a comparator of high gain value.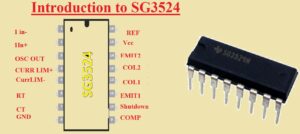 SG3524 Features
The main features of this component are discussed here
It comes in packaging of PDIP, SOIC and PDSO with sixteen pins
Its rise time is 200 ns and fall time is 100 ns
Its maximum duty cycle is forty-five percent
The value of switching frequency is seven twenty tow kilohertz
Its main topology are Push-pull, fly back, boost and forward
It has 2 outputs
The value of output current is fifty milliamperes
Output volts are 4.6 to 5.4 volts
Input volts are eight to forty volts can give
SG3524 Pinout
Its pinout are explained here
Pin 1 is IN- that is inverting input to error amplifier first
Pin 2 is the non-inverting input to first amplifier
Pin 3 is the output of an oscillator
Pin 4 is used for positive current limiting amplifier input
Pin 5 is the negative current limiting amplifier input
Pin 6 it is resistant for adjustment of oscillator frequency
Pin 7 is the capacitor point for adjustment of oscillator frequency
Pin 8 is ground
Pin 9 used for error amplifier compensation
Pin 10 was used for shutdown the component
Pin 11 is the emitter pin of BJT first output
Pin 12 is the collector pin of BJT first output
Pin 13 is BJT second output of collector pin
Pin 14 is the emitter pin of BJT output
Pin 15 is the input supply
Pin 16 is a reference
SG3524 Absolute Maximum Ratings
SG3524 Applications
It used in circuits of solar power inverters
Used in the smoke detector
Used for ac and dc power supply
Used in E-bikes
Used in washing machines
Micro inverter based on solar used this module
Used in PSCu server
Used in computer
That is all about the SG3524 all details have been explained if you have any questions ask in comments. Thanks for reading have nice day