Hi, readers welcome to the new lecture. Here you will learn about the Introduction to BT136 TRIAC. This triac has features to bear the four-ampere extreme current at its pinout. It is employed in digital circuits since the value of gate volts is less. The bidirectional operation can be used for AC circuits where polarity varied. Due to these features used forr microcontrollers having current values of less than six amperes.
Here we will discuss different paramerts for this triac with the details. So let get started.
Introduction to BT136 TRIAC
This TRIAC comes in bidirectional nature and has the ability to operate in voltage and negative polarity.
Due to two operations polarity has features to operate in 4 quadrants.
It is a planar passivated and sensitive gate that comes in TO-220 plastic-coated packaging.
It is mostly preferred for to direction switch and control of phase circuits.
It prefferd for IC logic gates and some less power triggering circuits.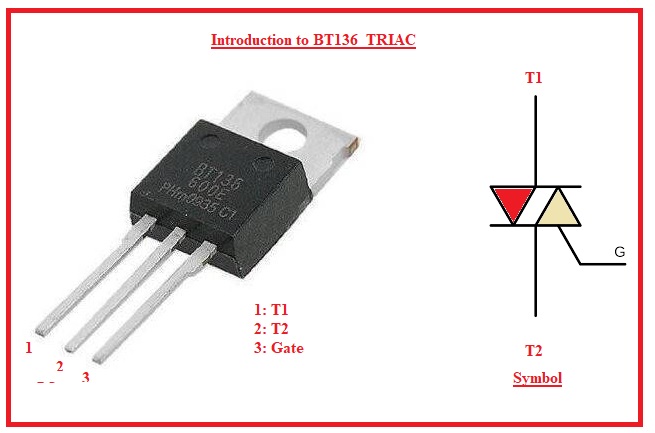 BT136 Features
The main features of BT136 are mentioned here.
It has a casing of TO-220.
The value of the latching current is four millimeters.
The holding current for this device is 2.2 milliamperes
Terminal volts is six hundred volts
Gate trigger current is ten milliamperes
It has sensitive nature of the gate
It can function in all 4 quadrants
It has the ability to restrict the high value of volts.
BT136 Pinout
There are 3 pinout it has described here
Pin 1 It is linked to the phase wire or neutral of ac supply.
Pin 2: Here phase or neutral of AC supply linked
Gate: It helps to operate the SCR
BT136 Operation Technique
As we discussed TRAIC is used for AC circuits there must be some precautions taken into account before use.
There must be used snubber with the tragic to avoid the rate effect that is created when high volts come at the terminal of triac suddenly.
There must stop the backlash effect that is created due to the capacitance occurrence between the MT1 and MT2 pins. To minimize this effect resistance in series combination is used.
For AC volts control there is zero-crossing technique is employed.
To minimize the harmonics and EMI there must be separation from digital electronics.
To minimize the backward flow of current in the case of inductive loads there must be alternative discharge pats used.
BT136 Applications
Its common applications are discussed here
It used for the control of AC and dc power circuits
In processors used for regulation of AC outputs'
It used in noise coupling circuits
It sued as dimmers in lighting circuits
Speed of ac motors such as induction motor and synchronous motors is done through this devices.
That is all about the BT136 triac all details has been discussed if you have any further query ask in the comments. Thanks for reading have a nice day see you in next post.