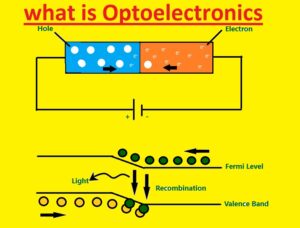 Hello, readers welcome to the new posts we will discuss What is Optoelectronics Devices, features, Typs and Applications Optoelectronics (also known as optronics) is the tech and theory of electronic devices interacting with light in ways like source, detect, ion, and control. Typical optoelectronic devices include opto-isolator, photonic ICs, laser diodes, optic fiber, photodiodes, electro-optic modulators, etc. Optoelectronics is a branch of electronics that focuses on the study and application of devices and systems that utilize the interactions between light and electricity. It combines the principles of optics and electronics to manipulate and control light for various purposes. Optoelectronic devices have revolutionized numerous industries and are an integral part of our everyday lives.
Types of Optoelectronics Devices
Light Emitting Diodes (LEDs)
The semiconductor technology used in LEDs causes them to generate light when an electric current flows through them. They have gained a lot of popularity because of their adaptability, longevity, and energy efficiency. lights, displays, auto lights, and signaling are just a few of the uses for LEDs.
Optical Fiber
Optical fibres are translucent, thin, flexible fibers made of premium glass or plastic. With little signal quality degradation, they are utilised to transmit light signals across vast distances. By enabling high-speed data transfer, optical fibres have transformed the telecommunications industry and become crucial for long-distance communication networks and internet connectivity.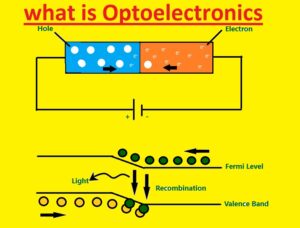 Photodiode
A semiconductor device called a photodiode transforms light into an electric current. When light strikes the photodiode, it creates a current proportionate to the light's intensity since it acts in reverse bias. In several applications, including light sensors, solar cells, optical communication, and photography, photodiodes are employed.
Solar Cells
Solar cells, commonly referred to as photovoltaic cells, use the photovoltaic effect to convert sunlight directly into energy. They are composed of semiconducting materials, often silicon, that take in solar photons and produce an electron flow. The main component of solar panels, solar cells are essential for producing renewable energy.
Laser Diodes
Laser diodes are semiconductor devices that use stimulated emission to produce coherent light. They are extensively utilised in many different fields, including as telecommunications, laser pointers, barcode scanners, laser printers, and medical devices. Laser diodes are indispensable in many sectors due to their great efficiency, small size, and exact control of the produced light.
Phototransistor Optocouplers
A phototransistor serves as the output component of phototransistor optocouplers. In comparison to other forms of optocoupler, they provide high current transfer ratios (CTR) and quicker reaction times. Applications requiring high-speed switching, such as motor control and digital signal transfer, are well suited for phototransistor optocouplers..
Photodiode Optocouplers
Photodiode optocouplers utilize a photodiode as the output device. They have excellent linearity, low power consumption, and high-speed response. Photodiode optocouplers are commonly used in applications requiring accurate sensing of light intensity or fast detection of light pulses.
Phototriac Optocouplers
An LED and a phototriac are both included in a phototriac optocoupler. They offer isolation and enable triac-controlled control of AC loads. Common uses for phototriac optocouplers include solid-state relays, dimming circuits, and motor control.
Applications of Optoelectronics
Telecommunications
Modern telecommunications networks rely heavily on optoelectronic technology. High-speed internet connections and long-distance communication networks are built on optical fibres, which employ total internal reflection to send light messages across great distances. Fibre optic cables are the best choice for carrying massive amounts of data fast and safely because they offer high bandwidth, minimal signal loss, and immunity to electromagnetic interference.
Data Storage
Data storage technology has advanced tremendously thanks to optoelectronic devices. Lasers are used to read and write data on compact discs (CDs), digital versatile discs (DVDs), and Blu-ray discs (BDs). These gadgets are well-liked for multimedia applications and data preservation because to their enormous storage capacity and speedy data access.
Lighting and Displays
The lighting business has undergone a revolution thanks to LEDs because of its energy efficiency, durability, and adaptability. They are commonly utilised in lighting applications for homes, businesses, and industries. The visual experience in televisions, cellphones, and other electronic devices has also been altered by optoelectronic display technologies including liquid crystal displays (LCDs), organic light-emitting diodes (OLEDs), and quantum dot displays (QLEDs).
Medical and Healthcare
Optoelectronics has substantially impacted the medical and healthcare industries. Surgery, eye surgery, and dermatological procedures all often involve laser technology. Non-invasive diagnostics are made possible by optical sensors and imaging systems, retinal imaging is aided by optical coherence tomography (OCT), and optogenetics allows for precise regulation of cellular activity in research and future therapeutic applications.
Sensing and Imaging
Numerous sensing and imaging applications depend heavily on optoelectronic sensors. They are utilised in robotics, security systems, industrial automation, and environmental monitoring. Optoelectronics is used by cameras and imaging equipment to acquire and analyze visual data, allowing breakthroughs in photography, videography, and computer vision technology.
Emerging Trends in Optoelectronics
Photonics Integration: combining many optoelectronic parts onto a single chip to increase performance and reduce size.
Silicon Photonics:  improving the integration of optics and electronics by using silicon-based materials and production methods.
Optoelectronics in Quantum Computing: investigating the use of light in quantum computers for communication and information processing.
Biophotonics: Using optoelectronic methods for research in biomedical imaging and diagnostics.
Optoelectronics for Energy Harvesting:  Creating optoelectronic devices to absorb and transform solar energy into electricity.
Challenges and Limitations
Cost:  The high cost of optoelectronic devices prevents their broad use in several applications.
Manufacturing Complexity: Manufacturing is made more complicated by the need for specialized techniques and technology for the production and integration of optoelectronic components.
Sensitivity to Environmental Factors: Temperature, humidity, and other external conditions can impact the performance and dependability of optoelectronic devices.
Material Compatibility:  It might be difficult to find materials with the appropriate optical and electrical characteristics for certain applications.
Power Consumption: Lasers are one type of optoelectronic device that can use a lot of power, which prevents their usage in battery-powered applications.
The Future of Optoelectronics
Optoelectronics has a bright future and has a lot of room to grow. We may anticipate the following as engineers and researchers continue to investigate novel materials, device designs, and integration strategies:
Enhanced Efficiency:  Devices made using optoelectronic materials will use less energy, having a smaller negative impact on the environment.
Increased Integration: Compact, multipurpose devices with better performance will be made possible by the merging of optics and electronics.
Expanded Applications: Emerging industries like quantum computing, biotechnology, and renewable energy will all need optoelectronics..
Advanced Sensing and Imaging:  Advances in image and optoelectronic sensors will allow for breakthroughs in a number of different industries.
Cost Reduction: The cost of optoelectronic devices will decrease due to improvements in manufacturing techniques and economies of scale, making them more affordable.