Hello, readers welcome to new post. Today we will discuss Introduction to Lightning Connector. It is a computer bus and power connector designed by Apple Inc. It was first time used in 2012 and replaces the previous technology's 30-pin dock connector. Lightning connectors are used to make connections between Apple mobile devices like iPads, iPhones, and iPods with other devices like computers, cameras, etc.
The older technique used was larger in size than lightning connectors. These connectors have small pinouts at any side so can be connected to the lightning receptacle through any side The plug is indented on each side to match up with corresponding points inside the receptacle to retain the connection.  In this post we will discuss its working features pinout and some other parameters. So let's get started Introduction to Lightning Connector
Introduction to Lightning Connector
Lightning connectors are small wires having USB 2.0 interfaces at one side and other side plugging points.
They have replaced the older technology that has 30-pin connectors. These connectors comprise of communication bus to transfer the dual data and have features to power the devices.
The lightning connector plug also comes with an integrated processor chip which helps with the accurate operation of every pinout.
The processor makes sure that the module is connected to only Apple-certified devices.
This is an 8-pin connector so not have backward compatibility. So with use of an additional converter adapter can be connected to older apple modules
Lightning Connector Features
The lightning connector has eight pinouts and carries the digital signal.
it is the replacement of USB Type A and B connectors and be connected in any direction. it is configured such that every pinout of this connector is connected to other side pins
These connectors provide a data transmission speed of about 480Mbit/s like USB 2.0
The lightning receptacle existing on 12.9-inch iPad Pro and 10.5-inch iPad Pro models has sixteen pinouts.It supported the highest transfer speed of 5 Gbits/s.
just lightning to USB 3 camera adaptor offered speed on these iPad pro models
There are some adapter created by Apple that helps lightning connectors to connect with interfaces like 30-pin, HDMI, VGA, and SD card
The lightning to 30-pin adapter is compatible with a limited subset of thirty-pin signals like USB data, and USB charging.
Official Lightning connectors consist of an authentication chip that restricts to third part manufacturers to make compatible accessories without taking Apple approval.
Lightning Connector Pinout
There are eight pinouts it has that are described here
Pin1: It is the ground pinout
Pin 2: It is L0p that is lane 0 positive
Pin 3: L0n that is lane 0 negative
Pin 4: it is ID0 that is identification control zero
Pin 5: it is a power pinout here power source connected
Pin 6:L1n that is lane 1 positive pinout
Pin 7: L1p that is lane one positive pin
Pin 8: that is ID1 identification pinout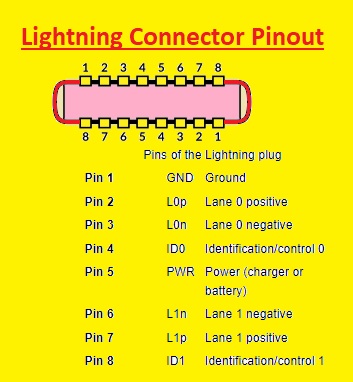 What Can the Lightning Connector Do?
The lightning connectors are used to charge the device. like iPhone and iPad that comes with lightning connectors and charger that are used to make a connection with USB point with the power devices.
Through lightning connectors, you can charge your mobile by connecting to a computer USB port
The charing quality depends on your computer model older computer will not charge your iPhone properly
The lightning connectors not only charge phones but help to transfer data like videos, photos, and other files to your computer and computer to phone
The lightning connectors also help with the audio transmission. From iPhone 7 onward Apple ditched headphone connectos from their smartphone series
USB Vs Lightning Connectors
Apple not has given any review about microUSb but numerous information says that lightning connectors can be used in place of microUSB since it is compatible with docks and speaker systems and features of insertion of cable in any direction for users' ease.
Apple thinking to retain control on the supply chain of devices ability to charge licensing costs and mechanical issues of USB connectors
The additional standard USB on the Go permits USB modules to perform this function
On 2015 Apple created MacBooks that have USB-C features. USB C is like the lightning and has benefits over microUSB.
USB-C is like lightning but not like the micro-USB can be connected to any side.
USB-C and lightning cannot be interchanged since they are completely different pinouts and connectors have
Is a Lightning connector a USB-C?
Lightning connectors perform the same operation as USB-C but have some differences. Lighting connectors can be used for charge iPhones and older iPads. So it is a proprietary technology
Does Apple still use Lightning connector?
Apple has replaced lightning to USBA cables with lightning connectors ot USB C cables. But all iPhones and other Apple devices use lightning connectors still. As USB c is open standard so many devices use this USb protocol
Do all iPhones use a Lightning cable?
For all iPhones, since 2012 charged through lightning  and in further helps to use new models of lighting cable
How to dry Lightning connector
To dry iphone tap your phone gently against your hand with lightning connectors face toward downward to remove extra water.
Leave your phone in a dry place where air flow comes. After forty minutes try again charging with lighting connectors
That is all about the Lightning Connector all details the explained. If you have any queries ask here.