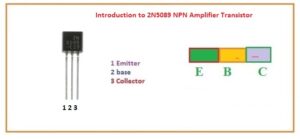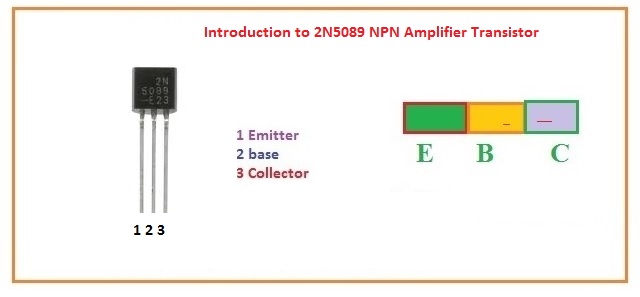 Hi readers i hope you all are doing great. in this post, we will have a detailed look at Introduction to 2N5089 NPN Amplifier Transistor.  In such applications where a less value signal is amplified with less value of noise, this transistor is preferred.  BJT transistor is created with the usage of numerous electronics elements used by manufacturers This device is created to provide amplification to the analog and digital signals having less value of got high value of gain.
In this post, we will cover its working features, pinout, and some other parameters. So let's get started with Introduction to 2N5089.
Introduction to 2N5089
2N5089 belongs to the NPN category fo transistors which is preferred to employ in audio amplifier circuits.
The value of the collector-emitter voltage of this module is twenty-five volts dc and the collector-base voltage value is thirty volts dc.
This component has the ability to offer fifty milliampere dc currents without any hindrance.
Other general categories of transistors do amplification of noise signal but 2N5089 not do amplification of noise.
As a switch, this module is used to operate one hundred milliampere loads.
For such applications where audio less gain signal having noise cutoff is amplified with less signal gain.
It used to do the switching of loads having a current value of one milliampere.
It also employed in radio frequency applications updo fifty megahertz frequency ranges.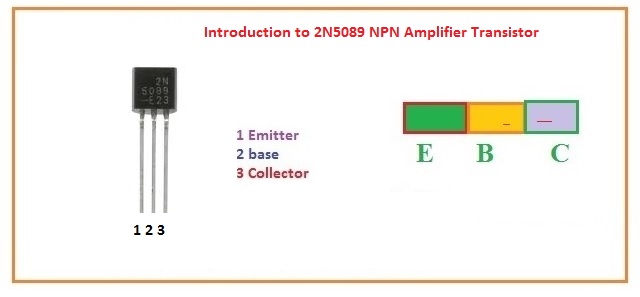 Pinout of 2N5089
There is 3 main pinouts of 2N5089 which are discussed here.
Collector pinout: It used to get output from the transistor.
Base Pinout: It is a central pinout do the function of control.
Emitter: Input is provided here.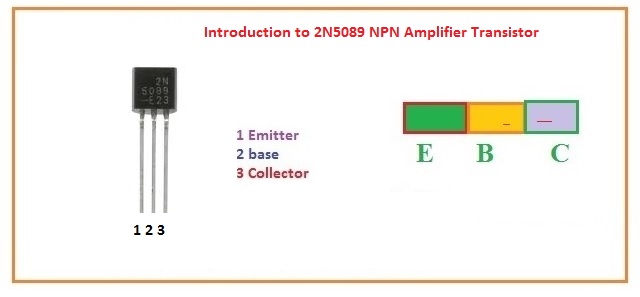 2N5089 Features
The main features of 2N5089 are mentioned here.
It belongs to the NPN category of the transistor.
The parameters of the collector to base is thirty volts dc.
Emitter to base voltage value is three volts dc
The value of collector to emitter voltage is twenty-five volts dc.
Collector current value is fifty milliampere dc.
The minimum value of hFEis four hundred.
The maximum value of hFE
is twelve hundred for collector current one hundred ampere dc, and for VCE is five volts.
The value of small-signal current gain is four fifty .minum and eighteen hundred maximum.
2N5089 Applications
The main applications of 2N5089 are mentioned here.
It employed in Hi-Fi audio system.
It used as a switch.
It used in push-pull topologies.
It works in tone control circuits.
It used as an amplifier in different devices.
So friends that is a detailed and complete post about 2N5089 I tried my level best to make this post simple and explained for you if you have any further query ask in the comments. Thanks for reading. Stay tuned for the next post. Have a nice day. See you in the next post.