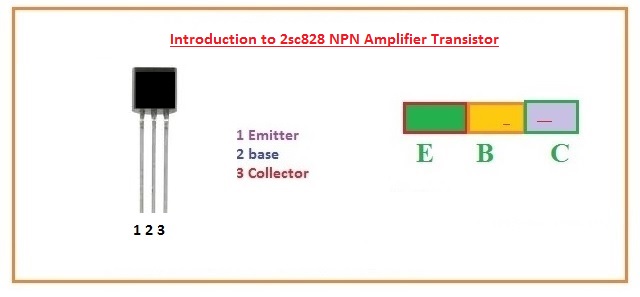 Hi, friends welcome to the new post. in this post, we will have a look at Introduction to 2sc828 NPN Amplifier Transistor.  2SC828 belongs to the family of NPN transistor that is silicon created amplifier configured modules. Their basic applications are in such audio AF based amplifier and switching circuits. the voltage range between collector and emitter is forty-five volts dc and the value of voltages for collector base terminals is forty-five volts dc.
This transistor has the ability to offers the fifty-milliamperes dc current through the collector terminal without any hindrance. In this post, we will cover its working operation pinouts and some related features. So let's get started with Introduction to 2sc828 NPN Amplifier Transistor.
Introduction to 2sc828 NPN Amplifier Transistor
The 2SC828 is an NPN transistor that mostly prefers for amplification and switching applications generally for AF type of amplification configuration.
According to the value of hFE it is categorized in three different types. that are Q, R, and S. Value of  hFE for these types are one thirty to two sixty, one-eighty to three-sixty, and two sixty to five twenty.
For such applications where the medium type of frequency employed it provides high stable operation.
It is generally available in TO-92 packaging.
Mostly it prefers for such applications where a small amount of power is used otherwise for high power applications PNP is used.
The value of breakdown voltage for collector and emitter terminals is twenty-five volts and for the collector, the base is thirty volts.
The operating current range for this module is fifty milliamperes.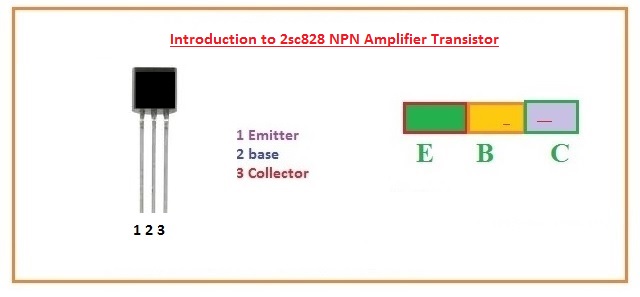 2SC828 Transistor Pinout
There are three pinouts of this module like another category of transistors.
Emitter: That is the emitter terminals of this device.
Base: It is central of the control terminals of the device.
Collector: It is a collector.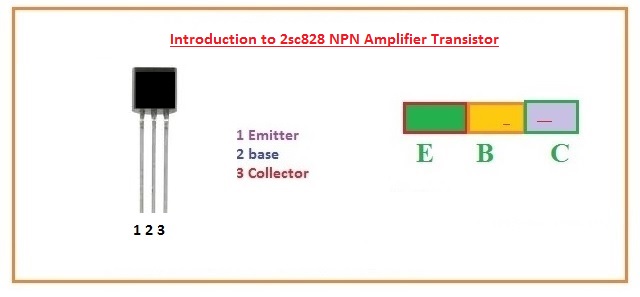 2SC828 Transistor Features
The main features of this device are mentioned here.
it belongs to the NPN category of a transistor.
The value of collector to emitter voltage is twenty-five volts.
The voltage range of collector to the base is thirty volts.
It employed in amplifiers and switching circuits based on AF.
The value of emitter to based voltage is seven volts.
The collector current value is fifty milliampere
The value of minimum hFE for Q variant is one thirty R is one eight and for S is two sixty.
The value of the highest hFE is two sixty for Q and three sixty for R and five twenty for S variant.
The value of current gain bandwidth is two twenty megahertz.
2sc828 Applications
The main use of these transistors is mentioned here.
It used in the Amplification modulation transmitter.
It used in AF tuner circuits
It is the main part of AF amplifier configuration system.
It is employed in the oscillator drive circuit.
For such applications where medium speed is needed it used..
That is a detailed post about 2sc828 if you have any further questions please don't hesitate to mention it in the below comments box. I will resolve all your problems. see you in the next post. till then have a nice day.