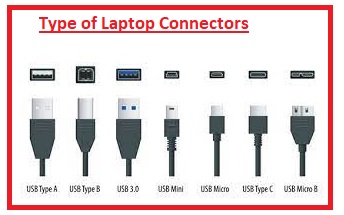 Hello readers welcome to new post. In this post we will learn Type of Laptop Connectors. Connectors are available on most electrical devices; laptops come full of these types of items. A better understanding of the connecting ports available on a laptop can help increase efficiency and ease of use.
USB connectors
The connection of a portable USB or external hard disk through a USB port is not considered a big deal. Any person that has a laptop knows about USB ports through they can not have knowledge of port different types like USB 1.0, USB 2.0 and USB 3.0. These are categorized on the basis of speed performance and efficiency.
As USB 1.0 is slow and usb 3.0 can provide high-speed data transfer.USB 1.0 and 2.0 have the same features and can be easily used They have a rectangular metal interface with four connecting pins made of brass. USB 3.0 is a newer version and offers much faster speed; although similar in shape, they have nine connecting pins. USB 1.0 and 2.0 can be operated as replacements but USB 3.0 can only used a special type connector.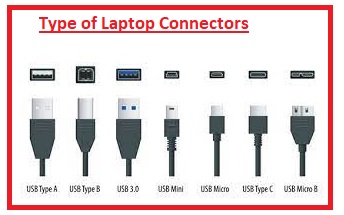 Sound Connector
Audio connectors are one of the most common findings on laptops. Previously laptops had a phono plug that provided mono sound. This has been upgraded to two phonos that provide stereo sound. Nowadays, a single stereo jack with microphone input is used. These connectors are used to transmit internal and external audio signals and are easily identified by their small circular design.
HDMI connectors
The latest versions of the laptop come with an HDMI connector (High Definition Multimedia Interface), which helps to connect to today's High Definition TV for video transmission. HDMI connectors have made the most of the VGA output used on older laptops to transfer video signals to monitors or large televisions.
These HDMI connectors have two lines, one with nine pins and the other with ten pins, counting the number of nineteen connections. VGA connectors, on the other hand, had three rows with five pin holes in each rectangular row with curved edges. HDMI connectors offer improved video quality with multiple connections.
Network Connections
In addition to these connectors, the RJ45 connector has a network connection. Comes with a square design with eight brass pins. The cable is kept in the connector even when it is disconnected. These are often used to connect a road box or network cable directly to a laptop. Older laptops had a smaller version of this connector, which had just four pins. This has been used to establish an internet connection via a landline.
Type of Laptop Connectors
| Connector Type | Description |
| --- | --- |
| USB Type-A | It is a commonly used type of usb connector that is used in laptops, It is rectangular and flat surfaced having four pinouts. It used for the connection of different types of devices like outer hard drivers, printer, etc |
| USB Type-B | There is another USB connection type, however, it is less popular than Type-A. It is square in form, with beveled sides, and is frequently used to connect peripherals like printers. |
| USB Type-C | a more recent kind of USB connection that is showing up on more computers. Compared to Type-A, it is more compact and functional and may be utilized for charging, data transfer, and video output. |
| Thunderbolt 3 | a high-speed connection that resembles USB Type-C in appearance. On a single cable, it is capable of supporting data transmission, visual output, and power delivery. |
| HDMI | a rectangular video output connection for high definition. It is frequently used to link computers to TVs or external displays. |
| VGA | a video output connection with a 15-pin connector. Despite being older and less popular than HDMI, this connection method is nevertheless used to link computers to external displays or projectors. |
| DisplayPort | a rectangular connection with greater resolutions and refresh rates than HDMI but a comparable look. It is frequently included on high-end laptops and is utilized for visual output. |
| Ethernet | a rectangular connection for wired networks that is used to connect laptops. As more computers have Wi-Fi built in, it is less frequent. |
| Audio Jack | a circular audio connection for input and output. It is frequently located on a laptop's side and is used for microphones, speakers, and headphones. |
| SD Card | SD memory cards can be inserted through this rectangular slot. It is frequently seen on laptops with built-in card readers and is utilized for data transfer. |
| MicroSD Card | MicroSD memory cards are inserted into this smaller SD card slot. It is becoming prevalent on more recent computers. |
| SIM Card | a tiny slot where a SIM card can be inserted to connect to a cellular data network. It is frequently seen in laptops with integrated cellular modems. |
| FireWire | a data transfer link that operates at high speed. Although less popular than USB, it is still used to connect some devices, including digital cameras. |
| eSATA | a SATA connection that is external and is used to connect hard drives. With the popularity of Thunderbolt and USB increasing, it is becoming less widespread. |
| DVI | a video output connection that is rectangular. Even though it's less popular than HDMI and DisplayPort, older monitors may still be connected via VGA. |
| Mini DisplayPort | a scaled-down DisplayPort variant used to output video. It is frequently present on more recent computers, particularly Apple models. |
| Mini HDMI | a scaled-down version of HDMI that is used to output video. More tablets and smaller computers are using it. |
| Mini DVI | utilized for visual output, a scaled-down version of DVI. A lot of older Apple computers have it. |
| Micro HDMI | a scaled-down version of HDMI that is used to output video. More tablets and smaller computers are using it. |
| Mini USB | a scaled-down USB port for charging and data transfer. Despite being less prevalent than Type-A, it may still be found on various gadgets, including digital cameras. |