---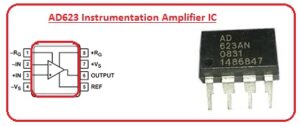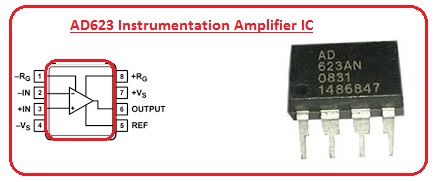 Hi, folks welcome to onboard. In this post, we will have a detailed look at Introduction to AD623 Instrumentation Amplifier IC. This category of the integrated circuit is can use used in different types of projects as amplifiers due to its less power consumption, less cost easy handling, and usage of 3 operational amplifiers in single casing make it effective for usage. 2 out of three operational amplifiers in this module to configure the positive and negative or inverting or noninverting inputs and 3rd operational amplifier used for showing of output.
In this post we cover its working, pinouts, applications, features, and some other related parameters. So let's get started with Introduction to AD623 IC.
Introduciton to AD623 IC
The AD623 belongs to the family of instrumentation amplifiers offers a rail like configuration. Comprises of three operational amplifiers.
This module used to amplify fewer value signals and reduces the high value of noise distortion in the signals to which it doing amplify.
The value of input impedance offered by this device is larger than other amplifiers that enhances its features.
Due to usage of less current almost five-fifty Neno ampers make it effective for the usage of such application that supported battery.
In this module Rail to rail configuration of operational amplifiers is exists in this configuration the operational amplifies does not offer voltage value similar to the voltage provided by the power source.
It is due to output transistors that stop the amplifiers from getting the highest positive and least negative voltage.
The value of input impedance for this device is large common-mode rejection ration is also high with that it offers fewer drift features.
Here term used instrumentation amplifiers it is a category of differential amplifies configuration of inner amplifies is such that single amplifies is used for generation of required results through certain impedance.
Instrummentiaon amplifiers are created through the usage of normal amplifiers with resistance configuration and exist in IC form.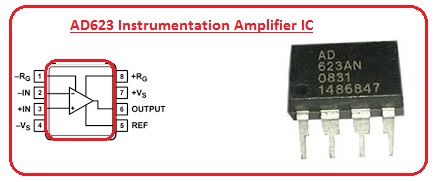 Pinout of AD623 IC
There are main eight pinouts of this module that are discussed here.
Gain: This inviting gain pinout linked to the resistance for adjusting the value of gain.
Inverting Input Pinout: it is the inverting or negative pinout of operational amplifiers.
Non Inverting pinout: This is a positive or noninverting pin of amplifiers.
Power (-Vs): Here negative supply is provided.
Reference Pinout: generally it linked to the common.
Output pinout: the output operational amplifies can be taken out from this terminal.
 Power (+Vs) Pinout: Here positive supply is provided.
Gain (+Rg) Pinout: this is a noninverting gate terminal of linked to resistance for adjustment of gain value.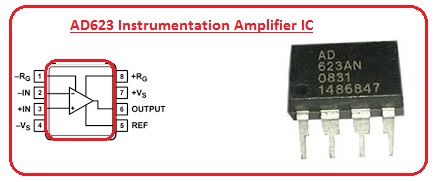 Features of AD623 IC
It has features ot operation at one or two supply voltage sources.
The value of operating current for these devices is five-fifty microamperes.
The value of bandwidth of frequency is eight kilohertz.
It exists in packaging types of PDIP, SOIC, and VSSOP that has eight pinouts.
The value of the gain range for this one to one thousand.
It is a module that has a rail to rail configuration of instrumentation that amplifies
Application of AD623 IC
The main applications of this device are explained here.
Used for calibration of different devices.
Used of such medical devices that needed less power.
Used as difference amplifies.
It operates in such applications where power sensitivity is required.
The instruments used in data acquisition used this device.
It used in control system modules.
That is a detailed post about AD623 if you have any further query ask in the comments. thanks for reading. See you in the next post. Have a nice day.