Hello, readers welcome to the new post. In this post, we will have a detailed look at Introduction to 555 Timer. It is used in different circuits to provides the features like time delay pulse and oscillation that are its main specifications. It consists of transistors, resistances, and capacitors in its internal configurations. It is the main parts of circuits like DC to dc conversion and detectors,
In this post, we will discuss its working, pinouts, applications, and other parameters. So let's get started with Introduction to 555 Timer.
Introduction to 555 Timer
The 555 timer is integrated circuitry used in such applications where usage of pulse, delay of time and oscillation is needed.
There are 2 modules of 556 in single packaging and four 558 modules in a single casing.
The first time it was used in 1972. There are many manufacturers are creating this device.
There are normally twenty-five transistors fifteen resistances and two diodes are positioned a single board.
This board comes up with eight pinouts that are dual inline packaging.
Some modules of these categories like 556 come with fourteen pinouts and 558 has sixteen pinouts.
Its temperature range where it works is between zero to seventy centigrade.
The voltage range for which it operates is 4.5 volts to fifteen volts dc.
There are flip flops, voltage dividers and comparators are configured at the board of this device.
normally it employed to offer the time delay where it used.
It operation modes are monostable, bistable.
It comprises of 3 resistances of five kilo-ohms in series combination to voltage dividers modules so-known as 555 timers.
It provides the larger value current at the output terminal so used to operates TTL.
555 Timer Pinout
There are eight main pinouts of this IC that are listed here with the details.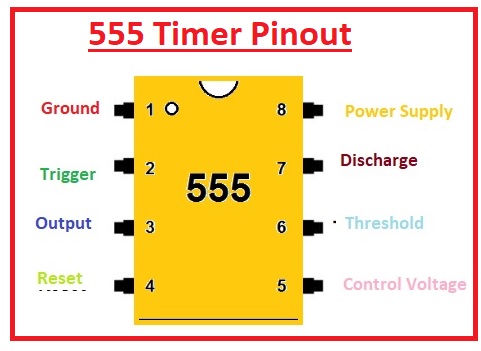 Ground
This pinout is linked to the ground and zero volts exist at this pin.
Trigger
The value of the voltage at this terminal is less than or has to control volts there is will be high at the output.
Output
The output of the timer is taken out from this pin.
Reset
It is employed to reset the timer.
Control
There is an internal voltage divider that exists in this board that is linked to the outer circuit through this pinout.
THRESHOLD
If the voltage at this pin is high than control then the output becomes low.
DISCHARGE
The capacitor is being discharged through this pinout.
Vcc
Positive volts are given here.
Modes of Operation
The operating mode of 555 timers are explained here.
Astable
This mode is called free running it can be operated are oscillator. 555 timer work as an analog to digital converter. There is processor usage to transform pulse to other variables like temperature.
Monostable
In this mode timer work as a pulse generator. The common applications are pulse detection, touch switches, frequency divider.
Bistable
In this mode, it works as SR flip flop configuration.
Schmitt Trigger
In this mode work as an inverter that transforms the distorted input to the digital.
555 Timer Features
Its main features are listed here.
Input current is three to six milliampere.
Output current value is two hundred milliamperes.
The highest power dissipation is six milliwatts.
Its input volts are from 4.5 to sixteen volts.
Operating temperature is zero to seventy centigrade
That is all about the 555 timers. I have explained each and every factor about this module in detail. if still have any issue ask in the comments. Thanks for reading have a nice day. see you in the next post.