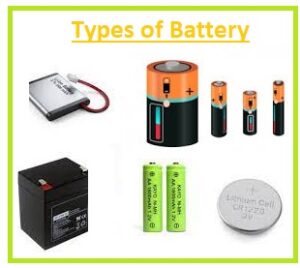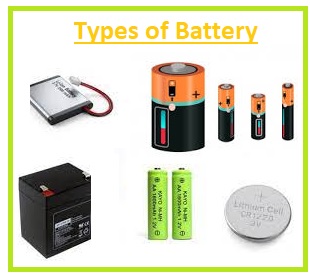 Hello guys welcome to the new tutorial. In this post, we will discuss Different Types of Battery. A battery is an electrical device that used to give power to the system and stored the electrical energy in form of chemical energy. The battery is created with a combination of cells that stored the energy in form of chemicals. It is also named electromichimcal modules. There are different devices that consists of battery to work on such as laptops. Mobiles. watches lights, etc.
Different types of batteries are used at different levels according to design and construction. Here we discuss all types of batteries with the details and their applications. So let get started.
Types of Battery
There are two main types of batteries according to charging and not charging combination
Primary that can not be charged
Secondary Battery Rechargeable
These are 2 main types but there are further subtypes we discuss all these in detail.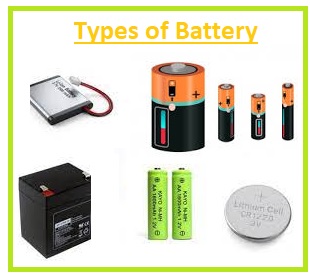 Primary Battery
It is such a category of battery that is used for one time and after that become useless mean cannot charge again. It is also called a voltaic battery.
As it has disadvantages that can not recharge but has some features like less cost and easy to use..
Types of Primary Battery
Different types of primary batteries are described here with the details.
Lithium Battery
This category of battery is very commonly employed in different projects since there is different innovation has made in it. These are preferred to use since can handle different temperature values, and operates for a long time interval.
Cadmium Battery
It is designed with the use of mercury and cadmium and is mostly used for fewer applications since cadmium has toxic behavior but is also used in place of zinc battery.
Alkaline battery
It is also called zinc and manganese dioxide battery. It is somewhat is costly and mostly used.
Zinc Carbon Battery
It is also called leclanche cell or carbon cell battery and very commonly used. Its common features are high reliability, less cost.
Secondary Battery Types
The main types of secondary batteries are described here with the details.

Lead-Acid
Lithium-ion(Li-ion)
Nickel Cadmium
Nickel-Metal Hydride(Ni-MH)
Lead-Acid Battery
It can be recharged after discharging process and the first time was introduced by Gaston Plante in 1859.
WIth The interesting thing is that it is the first rechargeable battery that was used and invented.
As compared to other batteries there is it uses less energy density. But it offered the larger value of power to weight ratio.
Since its price is less soused for starting of motor.
When it is charged stored the energy in form of potential energy at the electors created with the lead that is cathode and PbO2 is positive or anode.
Lithium-ion Battery
It advanced types of battery that ues lithium ions the main elements of battery.
When this battery is discharged there ionization process occurs at the anode for lithium atoms and losses the electrons.
These ions go to the cathode and combine with the electrons and become neutral.
This battery offers a large value of volts and stores a larger amount of charges.
It is normally used in mobiles watches and instruments used for military purposes.
Nickel Cadmium Battery
It is a rechargeable battery and consists of electrons of nickel oxide hydroxide and cadmium.
It was designed in 1899 and its electrodes volts value is 1.2 volts and decreases to zero through discharge.
The extreme emf force given through this cell is 1.3 volts. It exists in different ranges and sizes of ratings.
Their operation life is good also works at less value of temperature and offers the high discharge completely rated value
It was very commonly used in power devices, photography devices, lights, and some other.
Nickel-Metal Hydride(Ni-MH)  Battery
It is a rechargeable battery the reaction done at the electrodes of this module is like the NiCd battery.
There are electrodes of hydrogens are used in place of cadmium. It is operation range is larger than the same range of NiCd battery.
Mostly these batteries are used in place of alkaline batteries since has compatibility for volts
That is all about the Types of Battery. I have explained all types of batteries with the details if you still have any further query ask in the comments. Thanks for reading have a nice day.