titanium machining and provide intelligent strategies to enhance efficiency and precision in CNC machining processes.
Cutting forces and heat
Achieving precision in titanium machining is a formidable task, primarily due to the material's inherent characteristics, including high strength and low thermal conductivity. These attributes contribute to two significant challenges: cutting forces and heat generation, which must be effectively managed for successful machining of titanium components.
When cutting titanium, the high strength of the material necessitates elevated cutting forces. These forces can result in tool wear, reduced tool life, and diminished surface finish quality if not appropriately addressed. To combat this, CNC machining shops should carefully select cutting tools designed specifically for titanium machining. Carbide and ceramic inserts with specialized coatings are preferred choices as they offer enhanced wear resistance, allowing them to withstand the demanding conditions encountered when machining titanium.
Moreover, optimizing cutting parameters is crucial for controlling heat generation and cutting forces. Reducing cutting speeds while increasing the feed rate and depth of cut can help manage the temperature rise during machining. This approach, known as "light cuts, high feeds," enables better heat dissipation and minimizes the detrimental effects of thermal expansion, which can lead to dimensional inaccuracies.
However, it's important to strike a balance, as excessively high feed rates may cause tool chipping or premature tool failure. Monitoring tool wear and implementing efficient tool change strategies can help maintain precision throughout the machining process.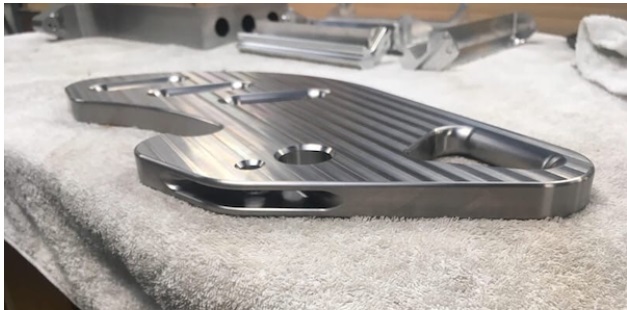 The management of heat is paramount in titanium machining. Due to titanium's poor thermal conductivity, heat tends to concentrate at the cutting zone, exacerbating tool wear and workpiece deformation. To counteract this, CNC shops should employ high-pressure coolant systems. These systems deliver a focused, high-velocity stream of coolant directly to the cutting area, effectively dissipating heat and prolonging tool life.
Work hardening and residual stresses
Titanium's propensity to work harden during machining poses a significant challenge for CNC shops striving for precision. As the cutting tool interacts with the titanium workpiece, plastic deformation occurs, leading to an increase in material hardness. This work hardening phenomenon can result in accelerated tool wear, compromised surface finish, and dimensional inaccuracies, ultimately undermining machining efficiency.
To mitigate the adverse effects of work hardening and residual stresses in titanium machining CNC shops should adopt specialized strategies. High-pressure coolant systems play a pivotal role in this context by effectively dissipating heat generated during machining. By maintaining a lower temperature at the cutting zone, these systems can counteract the accelerated work hardening rate, promoting better tool life and surface quality.
Interrupted cutting or trochoidal milling techniques can also be instrumental. These strategies involve varying the toolpath to intermittently engage the workpiece, reducing the duration of contact between the tool and the material. As a result, the localized heat and deformation are minimized, mitigating work hardening effects and enhancing precision.
Furthermore, post-machining stress relief processes, such as annealing, can be indispensable for critical components. Annealing involves heating the machined part to a specific temperature and holding it for a defined period, followed by a controlled cooling process. This procedure helps relieve internal stresses generated during machining, ensuring dimensional stability and reducing the risk of component distortion after machining.
Chemical reactivity and galling
Titanium machining poses a unique challenge due to the material's inherent chemical reactivity, which can result in galling – a condition where the cutting tool and workpiece adhere to each other, leading to friction, wear, and tool breakage. Understanding and addressing this issue is crucial for CNC shops aiming to achieve precision in titanium machining.
Titanium's chemical reactivity arises from its affinity for oxygen and certain elements like nitrogen, hydrogen, and carbon. When titanium encounters these elements, especially at elevated temperatures generated during machining, it can form compounds that adhere to the cutting tool's surface. This adhesion leads to welding or galling, causing chips to stick to the tool edge and severely compromising machining quality.
To combat chemical reactivity and galling, CNC Machining Shops must take several strategic steps. First and foremost, the selection of cutting tools plays a pivotal role. High-speed steel (HSS) and uncoated carbide tools should be avoided, as they are prone to galling. Instead, opt for specialized carbide or ceramic inserts with advanced coatings tailored for titanium machining. These coatings act as a barrier, reducing chemical interactions and improving tool wear resistance.
Furthermore, the choice of cutting fluid is critical. Employ coolants specifically formulated for titanium, which typically contain anti-weld and lubricity additives. These coolants create a protective layer between the cutting tool and the workpiece, preventing galling and reducing friction. Maintaining a controlled machining environment is equally vital. Minimize exposure to oxygen by using inert gas shields or chambers when feasible. This approach reduces the likelihood of chemical reactions occurring at the cutting interface.
Tool selection and process optimization
When it comes to tool selection, CNC shops should meticulously choose cutting tools tailored for titanium machining. Carbide inserts with advanced coatings, such as titanium nitride (TiN) or diamond-like carbon (DLC), are preferred due to their exceptional wear resistance and ability to withstand the harsh conditions encountered when machining titanium. Ceramic inserts, while brittle, can excel in high-speed applications, offering a viable alternative for specific situations.
Equally important is the consideration of tool geometry. Tools with a high rake angle and a sharp cutting edge facilitate effective chip evacuation and reduce cutting forces. Additionally, the selection of cutting tool substrates, such as micro grain or ultrafine grain carbides, can further enhance tool life and machining accuracy.
In the realm of process optimization, CNC machining shops should employ modern software solutions that offer real-time monitoring and simulation capabilities. Such software enables machinists to visualize toolpaths, predict tool wear, and identify potential issues before they impact the final product. Utilizing trochoidal or high-efficiency milling strategies can help maintain consistent chip load and minimize tool wear.
Toolpath planning and optimization are pivotal aspects of process optimization. By utilizing adaptive toolpaths that adjust cutting conditions based on the current state of the tool and workpiece, CNC shops can maximize tool life and maintain precise dimensional control throughout the machining process.
Conclusion
Achieving precision in titanium machining requires a comprehensive approach that considers cutting forces, heat management, work hardening, chemical reactivity, and tool selection. CNC machining shops that implement the smart strategies outlined in this guide can enhance their efficiency and produce high-precision titanium components while minimizing tool wear and scrap rates. Remember that continuous monitoring, process optimization, and adapting to specific titanium alloys are key to success in this challenging machining process.