Hello, readers welcome to new post. In this post, we will learn Introduction to TYN612 Thyristor. The thyristor is a semiconductor module that comes with four layers of a combination of alternating P and N materials. It is mostly used in high-power applications. Its basic working is a bistable switch and operates if its gates get the current retain the operation till the voltage changes the polarity or voltage is not given.
There are 2 design configurations that exist for this module on the basis of triggering conditions. The small current existing at gate pins regulate the larger current exist at the anode to cathode.  In this post, we will discuss TYN612 Thyristor pins features and will learn how you can make its projects by using the PCBWAY services. So let's get started Introduction to TYN612 Thyristor
Introduction to TYN612 Thyristor
A thyristor is a switching component used in power control circuitry and also used for protecting the circuit from overvoltage conditions.
It needs a gate pulse to operate it perform the self-latching and continue to on state till input gets off.
So we must link the switching circuitry in combination to the input supply to off the circuitry.
The thyristors TYN612 has digit 6 that defines the repetitive peak off volts which is six hundred volts.
12 denotes at the on-state RMS circuitry that is twelve ampers. This thyristor is commonly used to protect the circuit from overvolts protection, motor control circuitry, and voltage regulation.
In different circuits, SCR and thyristor are considered as same. In some structures, thyristors are considered as complicated.
First-time thyristors were used in 1956. Since thyristors can regulate larger current and volts having small components used in electrical power regulation.
Thyristors are mostly preferred for power switching really circuits inverter and chopper circuits.
At start, thyristors depend on the reverse current to get off which makes it difficult to work for dc current currently used thyristors get on and off through the use of a gate signal. The new device is called GTO thyristor.
Opposite to transistor, this module can be complete on or off so not preferred for analog amplifiers and use for switching applications
Thyristor Working
In thyristors with PNPN configuration, there are 3 junctions exist PN, NP, and PN.
If the anode has positive polarity the external junction PN and PN are in a forward-biased state and the center NP junction exists in a reverse-biased state.
So NP junction blocks of the positive current anode to cathode. SO thyristor in forwarding blocking conditions.
Like this negative current flow is restricted through external PN junctions so thyristors in reverse biased block conditions.
It can be lies in the forward conducting state so it gets a certain signal to get on and start conducting.
TYN612 Thyristor Projects Simulation
A thyristor is considered as the very integral part of switching and control circuits. If you are working on such projects and new to the electronic field you must learn new skills about the simulation of the project and will need, some experts, to make the projects. SO do not worry about that contact with PCBWAY which is best in all services related to PCB and PCB assembly. PCBWAY is china based manufacturer that has services for since last eight years to their customers with different services. They are offering different PCB-based services such as single layers, double layers multiple layers all these PCBs will be used in your projects. SO avail these features of PCB with well professional technicians and machines for project making. If you get the service of PCBWAY for your projects they will guide you comprehensively from start to completion of your projects. When you will send the details of your projects in form of a Gerber file they will make schematic to your projects and send you to get the details either are good to make it practically so then you can get the details each every step of your projects.
They are professional in each services currently they are celebrating their 8th Anniversary and giving huge discounts to your on their different products and also have projects competition that is for your take part in this competition and gets huge prizes. To get the details of this promotion visit here. PCBWAY 8th Anniversary Promotion
Features of TYN612 Thyristor
There are some features of the TYN612 transistor.
It exists in surface mount and through-hole packaging
It give good work during the restricted areas
Mostly used in current limiting circuits voltage controls circuits
Its triggering gate current is five milliamperes to fifteen milliamperes
Its repetitive peal-off condition volts is six hundred
On state, RMS current is twelve volts
Its storage temperature is minus forty to one fifty
The operating temperature is minus forty to one twenty-five
Peak gate current if four ampers
Extreme reverse gate volts if five
Dynamic resistance thirty megaOhm
TYN612 Thyristor Pinout
There are three pinouts it has gate cathode and anode
K is the cathode pin of the thyristor
A is anode of thyristor
G is thyristor gate work as tirgger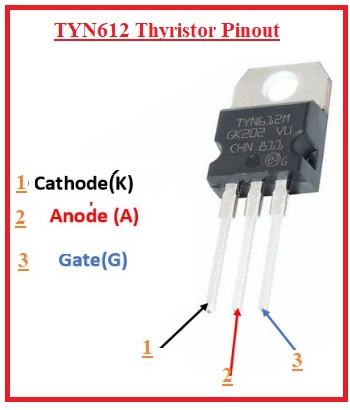 TYN612 Thyristor Applications
The main applications of TYN612 are explained here
It used in battery charging regulator
Part of pulse circuit
Used for over-voltage protection
EMployed in zero volts switching
Used in power control
Part of the different switching circuit
That is all about the Introduction to TYN612 Thyristor all details has explained if you have any further query ask in comments. See you in next post.