Hello, readers welcome to the new post. In this post, we will learn Introduction to IRLZ34N N-Channel Power MOSFET.MOSFET stands for metal oxide semiconductor field-effect transistor type field-effect transistor such as JFET. As we know that in JFET pn junction comes out but in MOSFET it does not come out. Instead of its MOSFET gate, it is separated from the channel by a layer of silicon dioxide. There are 2 main types of MOSFET first enhancement and second diminution described as D.
This MOSFET component is used in such an application where high speed and power are required as it provides these features and, with a small amount of resistance. It is the N family of the MOSFET channel. Since this is the N channel so the flow of the current or running process is done by free electrons. Here is a very important fact that I am to discuss is that to create different projects related to electronics if you are a student or beginners can contact different electronic engineering-related companies that will help to you for creating such products and also provides some components at a reasonable price to you for creation of a project. There are numerous companies are working in this world that provides services related to electronics but I will suggest to PCBWAY. The services of this company I also have used i also recommend it you. Its most common services are PCB, PCBA, and PCB prototyping. They provide $30 for SMT orders and three flexible options are Turnkey, kitted, and combo. You can choose these options during getting components from them.
PCBWay is dedicated to meeting the requirements of its clients from a variation of industries in terms of excellence, delivery, cost-effectiveness, and other demand requests. As one of the most skilled PCB producers in China. PCBWAY take pride in being your best business associates and best networks in all features of your PCB requirements
So let get started.
Introduction to IRLZ34N N-Channel Power MOSFET
High-strength N MOSFETs (Metal – Oxide – Semiconductor Field-Effect Transistor) are famous for driving high levels of volts and currents from a microcontroller.
They have very low ON resistance thirty-five milliohms) which is why they consume less heat and usually do not need a heat sink
The IR MOSFET power family MOSFET power is used by various devices to support various applications such as DC motors, inverters, SMPS, lamps, charging switches, and battery-powered applications.
This electronic component is widely used in electric circuits and from 1960 to 2018 approximately (1.3 × 1022) MOSFETs have been created.
It is also widely used in digital circuits, analogs and power tools.
The main advantage of MOSFET is that there is no need to install current to control the current load is required for BJT.
The power supply provided to the E-MOSFET gate can increase the conduction of the condition.
While the D-MOSFET voltage supplied to the gate can reduce the conduction of the condition.
The transition speed of this phase is high, their size is small, using less power.
IRLZ34N MOSFET Pinout 
There are three main pinouts that are listed here
Source: This pinout is used to get out the current from the device
Drain: current goes from outer source to module
Gate: It works as a control terminal like the base in BJT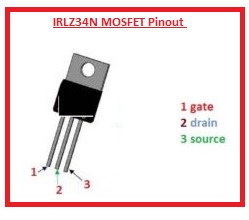 IRLZ34N MOSFET Working
It operating mode is the enhancement mode of MOSFET and it is employed as a switching module in different projects.
Outer supply is provided at the gate terminal and it operates as switch current flows from drain to source
It is considered a mechanical switch since there is no existence of a moving component
There is such arrangement that gate has insulation from drain and source and these terminals work as plates of capacitor and there is positive charge at the gate and negative at source and in this way it operates
If there is volts value about the GS is 0 it gets off and remove from the switching mode
IRLZ34N MOSFET Features
Its main features are listed here
Its height and length is 15.65 and 10 millimeter
Its width is 4.4 millimeter
It used rise time about one hundred nanoseconds
Fall time for this device is twenty-nine nanosecond
It is available in T0-220 packaging
Its dissipate power value is sixty eight watt
value of volts about VDS is fifty volts
Volts about VGS is plus sixteen also minus sixteen
Applications of IRLZ34N
Its main applications are listed here
It is the main part of a circuit that used to convert DC to DC and DC to AC
It used in EPS devices
It works as the driver of the relay
It employed in battery
Motors drivers are consists of this device
It used in regulators are the main component
Also employed in different types of UPS