Hello fellows, I hope you are doing great. In today's tutorial, we will have a look at Working Principle of LED. The full form of led is a light-emitting diode it is a diode that emits light when input supply is provided. It is semiconductor devices and like other diodes has PN junction. The emitting light from a diode depends on the energy needed by the bandgap of semiconductor material. For emitting of white color light,more than one layer of semiconductor material is used and phosphor can be used. It was the time used for common purposes in 1962 but their intensity of light was less and emit infrared light.
The LEDs that emit infrared light are used in remote control circuitry, like the remote of your LCD, etc. Currently used LED emit light of ultraviolet, visible and infrared wavelength. Older types of LEDs were used in different small-size incandescent bulbs, indicator lamps, and 7 segments displays. Nowadays LEDs producing high-intensity lights are used in buildings and rooms for illumination. There are numerous benefits of LEDs over incandescent lights such as less power usage, longer operating life, less dimensions, etc. The diodes are used for traffic signals, cameras, different medical instruments. In today's post,we will have a detailed look at its working, applications, and some other related parameters. So let's get started with the Working Principle of LED.
Working Principle of LED
The LED stands for light-emitting diode and in the below figure, you can see the symbol of LED.
The working of LED is very simple when led is in forward biasing conditions the electrons existing in N side of diode cross the PN junction and enter in the P region combine with the holes existing in that region and emit light.
As we discussed in the tutorial about atom that there are two main bands of energy first one is the conduction band that has a large number of electrons, in this case, is N region.
Second is a valance band that is P region of diode and has holes in it. So when electrons move from high conduction band to the valance band or combine with the holes releases energy in the form of light.
The type of light emitted depends on the type of bandgap and other related parameters.
A large visible area on a single sheet of the semiconductor substance allows the photons to be released as visible light.
This procedure is known as electroluminescence and described in the below picture.
For maintaining the wavelength of light emitted numerous materials are added during the process. The color of visible light relies on the wavelength emitted.
There are some light-emitting diodes that release lights which not found in a spectrum of visible light but their wavelength is longer and exits in the infrared region of the spectrum.
LED Semiconductor Materials
In older light-emitting diode GaAs was used and released infrared radiations, that is non-visible.
For the production of the visible first LED that emits visible light gallium, arsenide phosphide (GaAsP) is used on substrate GaAs.
For increment in the brightness of this LED gallium phosphide (GaP) used as a substrate, as a result, large intensity red LEDs and orange color light-emitting diodes were created.
For pale green light, GaP was used for emitting of light.
For the emission of yellow light chips of red and green color were used in LED.
The first time super bright red, yellow, green, and light-emitting diodes were created by using the gallium aluminum arsenide phosphide.
In the starting years of the 1990s ultrabright light-emitting diodes were created with the use of InGaAlP and produced orange, red, and green colors of light.
LED Biasing
The voltage required in forward biasing of LED is larger than the diode created with the silicone.
Normally forward biased voltage for a light-emitting diode is from 1.2 volts to 3.2 volts according to the material used.
Voltage for reverse biasing of LED is less than the diode used for rectifier circuits normally 3 volts to 10 volts.
The emitted light depends on the current used for forward biasing of LED. You can see in the circuit denoted as (a).
The graph in the figure indicates that emitting light is directly proportional to the current required for forward biasing of a diode.
The increment in IF increases the light emitted from the LED.
The intensity of the light also depends on the temperature. In the figure, you can see that the intensity of life decreases with the increment in temperature.
LED Light Emission
The led emitting light in a defined range of wavelength as shown in a figure through the spectral curve.
The curve in graph (a) explains the relation of emitted lights with the wavelength of respective visible LEDs.
The graph (b) is for the infrared light-emitting diode. The unit for the wavelength used is (nm).
The standardized emitted visible red LED peaks are at 660 (nm), the wavelength peak of yellow is 590 nm, green at 540 nanometers, and blue is 460 nanometer. The infrared light-emitting diode is at 490 nanometers.
The emitted radiation pattern for small size light-emitting diodes is shown in the below figure.
Emitting light of LEDs has directions unlike the filament and fluorescent bulbs.
The pattern of emitted radiation is at 90 degrees to the surface from which are emitting.
It can be very by use of a lens, changing the shape of the emitting surface, and use of diffusion films in a specified direction.
The specified directional pattern has numerous benefits for different applications such as traffic signal, where light should be seen to only specified drivers.
Figure denoted as (a) is shown the pattern for led in a straight direction.
It used in an indication of panels.
Figure denoted as (b) displays the pattern for a wider view angle as used in numerous super bright light-emitting diodes.
With these two patterns, there are numerous patterns of wavelengths of led that can be created.
Small-sized led used in different indicators is shown in the below figure. With the small light-emitting diodes used in indicators, large size LEDs are being used for illuminating purposes due to their large efficiency and durability.
A normal light-emitting diode can provide fifty to sixty lumens per watt that are almost five times larger than the normal incandescent bulb.
The different configurations of light-emitting diodes are shown in the below figure.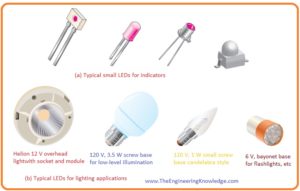 LED Datasheet
The datasheet for the TSMF1000 infrared LED is shown in the below figure. You can see that the value of maximum voltage for reverse biasing is just five volts, extreme current for forward biasing is one hundred milliampere and voltage drops for forward biasing are almost 1.3 volts for the value of forward biasing current of twenty milliamperes.
In the graph denoted as (c), you can observe that the peak power output for this diode exits at the wavelength of 870 nanometers and its radiation pattern is shown in figure denoted (d).
LED Applications
Seven Segment Display
Normal light-emitting diodes are used in different indicator lamps displays on different variations of apparatus such as household devices to instruments used for research purposes.
A general device that uses a light-emitting diode is 7 segment display. The arrangements LEDs for the 10 decimals digits is shown in the below figure.
Through forward biasing the certain combination of LEDs we can get every decimal digit and decimal point.
In respective figure 2 category of LEDs circuitry configuration first is a common anode and the second one is a common cathode is shown.
The general use of LED emitting infrared lights is for television, DVD, gate closer, etc.
The infrared beam transmits through IR LED and detect by the receiver installed in television.
For instance every button remote control of Television there is special code,
When you press any button of remote control for channel changing special electrical coded signal produced and sent to the LED that transformed into the coded IR light signal.
The receiver installed in television read the signal of code and perform a related task which you send to TV either change of channel or volume level.
This specific structure is used for counting baseballs as they are fed down a chute into a box for delivery.
As every ball moves through the chute, the infrared beam released by the light-emitting diode is disturbed.
This is sensed by the photodiode and the resultant alteration in current is detected by a sensing circuitry.
The electronic circuitry counts every time when IR beam is disturbed, a specific number of balls moves through the chute, the stop technique is triggered to stop the movement of balls until the next unfilled box is spontaneously relocated into place on the conveyor.
This technique is used to counting and packaging control for numerous other types of things.
High-Intensity LEDs
The light-emitting diodes that generate large output than normal LEDs are used in numerous applications such as traffic signals, automobiles lights, indoor and outdoor lights advertising signs, etc.
LED used in Traffic Lights
The use of incandescent bulbs in traffic lights has been replaced with light-emitting diodes. Small size light-emitting diodes are used in array form to make red, green and yellow lights.
There are 2 benefits of LEDs over incandescent bulbs first one is LEDs are brighter, their operating life is longer and uses less amount of energy almost 90 percent less than incandescent bulbs.
LED traffic lights are assembled in arrays with lenses that augment and directed the emitted light.
In below figure working of traffic lights array using red light-emitting diode is shown
A comparatively less density of light-emitting diodes is shown for an explanation.
The quantity of LEDs and distance among them when used in traffic lights depends on the diameter of the unit, lens category, color, and intensity of emitted light.
 With the use of suitable LED density and a lens, eight or twelve inches of traffic light will look fundamentally as a solid-color sphere.
There is parallel and series combination for LEDs in the array used in traffic lights. Series combination some time not used as if one led is damaged or off all other will be off.
With the benefit of a parallel combination, it has a disadvantage that it needs resistance that makes is costly.
To minimize the use of limiter resistances series and parallel combination of LEDs is used as shown in the below figure.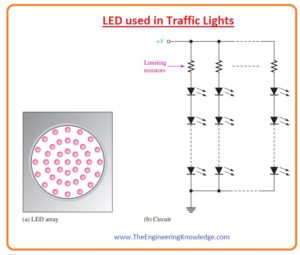 To maximize the emitted light effect some lens used in arrays of traffic lights has small size reflectors.
There is an optical lens is also used to cover the front side of the array to provide proper direction light emitting from the diode. This lens also minimizes the inappropriate dispersion of light.
In below figure used of a lens is explain to make the proper direction of light toward the observer.
A certain LED circuitry arrangement relies on the voltage applied and the color of the LED.
There are a different value of voltage is provided to obtain different colors of led. There is less voltage is required for red led and if we move from red to blue color in the spectrum the required voltage will increase for colors.
Normally red light-emitting diode needs two volts, blue light-emitting diode needed three to four volts.
Usually, LEDs, though, requisite twenty milliamperes to thirty milliamperes of current, irrespective of their voltage desires.
In the below figure the general V-I characteristics curve for red, yellow, green and blue is shown.
LED Displays
In indoor and outdoor minor signs, message boards and large-size TVs use light-emitting diodes. These signboards can ha one or more than one color or full color.
Full-color screens have small groups of high intense green, red and blue light-emitting didoes to make pixels.
A normal screen consists of thousands of red green and blue or RGB color pixels.
Blue-green and red are basic colors when merging with each other in different concentration than can be used to make any color existing in visible range.
In the below figure fundamental pixel created with the use of 3 light-emitting diodes is shown.
 The light production from every one of the 3 diodes can be changed autonomously by changing the quantity of forward current.
Related Posts
So friends that is complete post about the Working Principle of LED I have explained each and every parameter related to the Working Principle of LED. If you have any questions about Working Principle of LED ask in comments. See you in next post have a good day.