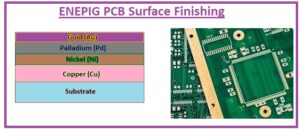 Hello, readers welcome to the new post. In this post, we will discuss What is PCB surface finishing. PCB is a very important component of the electronic industry and comes with copper layers at the surface. If there is no protection existing at the surface that caused the oxidization of coppers placed at the surface of the board and damages the board and reduces the operating life of the board.
To provide protection to the circuit created on the board and proper interlinking of the components on the board there is surface finishing of PCB is done.
Selecting the accurate surface finish technique for your PCB board is not a tranquil job. Not single for PCB board but a surface finish must also be harmless for the atmosphere. That's why PCBWay uses the constituents registered under RoHS acquiescence on all its circuit boards. To see the finest surface finish technique for your PCB requirements.
Hot Air Solder Leveling (HASL)
At the industrial level, there is commonly used surface finishing of PCB is done through HASL or hot air Solder Leveling.
It is a simple process through there is placing of the PCB board in the lead alloy having a molten state.
The main advantage of using the HASL is that the board can place the temperatures values up to two sixty-five centigrade that helps to find any fault that exists in the board and save time and cost for another component assembly on board.
There is 2 main directions either horizontal or vertical where HASL process is done. For getting the uniform coating there is horizontal procedure is used by PCBWAY.
HASL Advantages
It can easily be reworkable
There is operating life of PCB boards through this finishing is very good and ong time
It can easily get through the local market.
HASL Disadvantages
There is lead used in this process that is harmful to health
It causes thermal shocks
It is not preferred for the fine pitch
It comes with a non-smooth surface.
Organic Solderability Preservative or OSP
There is the application of a very thin sheet of substances placed at the surface through conveyorized procedure that helps to make protective layers at copper to prevent oxidation.
There is the usage of water-based component that helps to make copper work for soldering in a protective state.
When OSP is applied to the board the thickness of the board becomes four to twenty-four micro inches.
OSP Advantages
It is a less expensive process
There is no existence and usage of lead
It is a very easy process and also handle easily.
OSP DisAdvantages
The results of this process are limited
Its working life is very limited
It does not offer the thickness measuring

ENIG
ENIG is to layer coated with metals of two to eight gold for one to two forty uin in. There is a coating of Nickel used for soldering the component.
Since it followed the RoHs and prefer for local use. There is gold coating is place and nickel and less resistance for small size gold.
ENIG Advantages
It used for long-duration or has lifetime operation
It is also without the use of ENIG
It is preferred for Plated through-holes
Comes with the Flat Surface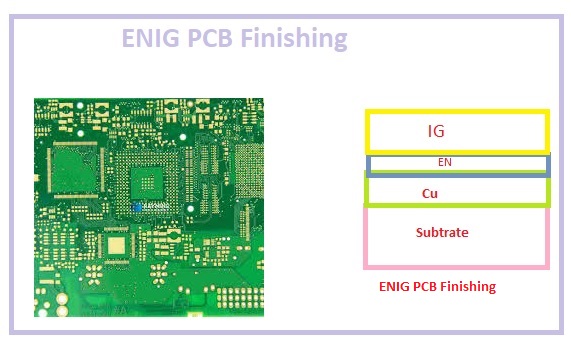 ENIG Advantages
This process is complex as well expensive
It can be remarkable workable and plagiarism free
It can be effective through the black pad
It comes with the loss of signal
Immersion Silver
It is the best option than ENIG for flat surfaces, Its operating life is about the one year
The nature of immersion silver layers is sensitive and ready to work on
With that there is an extra coating of gold such is placed over the copper layer
Immersion Silver Advantages
It is expensive then ENIG
It working life is like to HASL

Disadvantage Immersion Silver

It can be stored in one single day
It not used for plated through-hole
ENEPIG
This technique is new to PCB finishing and first time used in after 90s.
There is three layers of gold, palladium, and nickel that enhance the use of these features to boards since it comes with lots of advantages to board.
There is a lot of new features are introduced in this finishing to fulfill the reliable, ROHS standards and requirements for packaging.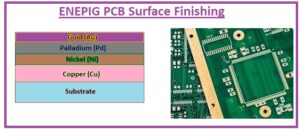 ENEPIG Advantages
There is no occurrence of black pad risk.
Its operating life is more than one year.
It is coated with three layers that save it from corrosion.
There is fine solders points exist on the board.
ENEPIG Disadvantages:
Its processing is restricted to a certain level.
It is a costly process
There is some restriction used to make it effective again.
Tin Immersion
The use of tin very helpful the case when there is oxidation occurs. There is a mixing process easy for copper and tin that increases the operating or shelf life of the PCB board.
Through this process, a reliable board with fewer prices can get.
It is not good for through-hole technique.
So, dependent upon your use, you can simply choose any of the overhead PCB surface finishing techniques. PCBWay offers all the results for any of your project necessities at a reasonable charge