Hi, guys welcome to the new post. In this post, we will learn What Does an Anemometer measures. Have you ever wondered which techniques are used by meteorologists to measure wind speed accurately? Or how wind turbines harness the power of the wind? For these operations main device called an anemometer is used. In this post, we will discuss the anemometer and its related parameters. Let's get started Introduction to Anemometer
Introduction to Anemometer
The wind is a powerful force of nature that has an impact on differnt factors of life, from weather prediction to renewable energy production. For understanding and harnessing the potential of wind, scientists and engineers operations based on anemometers. These instruments are designed to calculate wind speed, which is a main factor in differnt industries and applications.
What is an Anemometer?
An anemometer is used to measure speed and direction of speed. It comes with different types, but all types has same working principle. The most common type of cup anemometer. It has 3 or 4 cups that are mounted on a horizontal axis. As the wind blows, the cups show rotations. The faster the wind blows, the cup rotating speed is high. The anemometer calculates the number of rotations in one minute and transforms it to wind speed.
Importance of Measuring Wind Speed
Measuring wind speed is an important point for different factors. The first one is, it helps in to find weather forecasting, helping meteorologists to give predictions and track storms, hurricanes, and other severe weather outcomes. By monitoring wind patterns, forecasters can give timely warnings and help people to be ready for potential hazards.
Additionally, wind speed calculations are important in the aviation industry. Pilots based on accurate wind speed data to make sure safe landings takeoffs, and flight routes. Wind speed is also important in assessing air pollution dispersion, optimizing wind energy manufacturing, and designing structures to withstand strong winds.
Types of Anemometers
The are three common types of anemometers;
Ultrasonic anemometers;
Cup anemometers;
Vane anemometers;
1. Cup Anemometer
The cup anemometer is one of the oldest types of anemometer that is mostly used. It consists of three or four small cups configured to horizontal arms that rotate wind blows. As the cups spin, a mechanism in the anemometer transforms the rotations into wind speed calculations.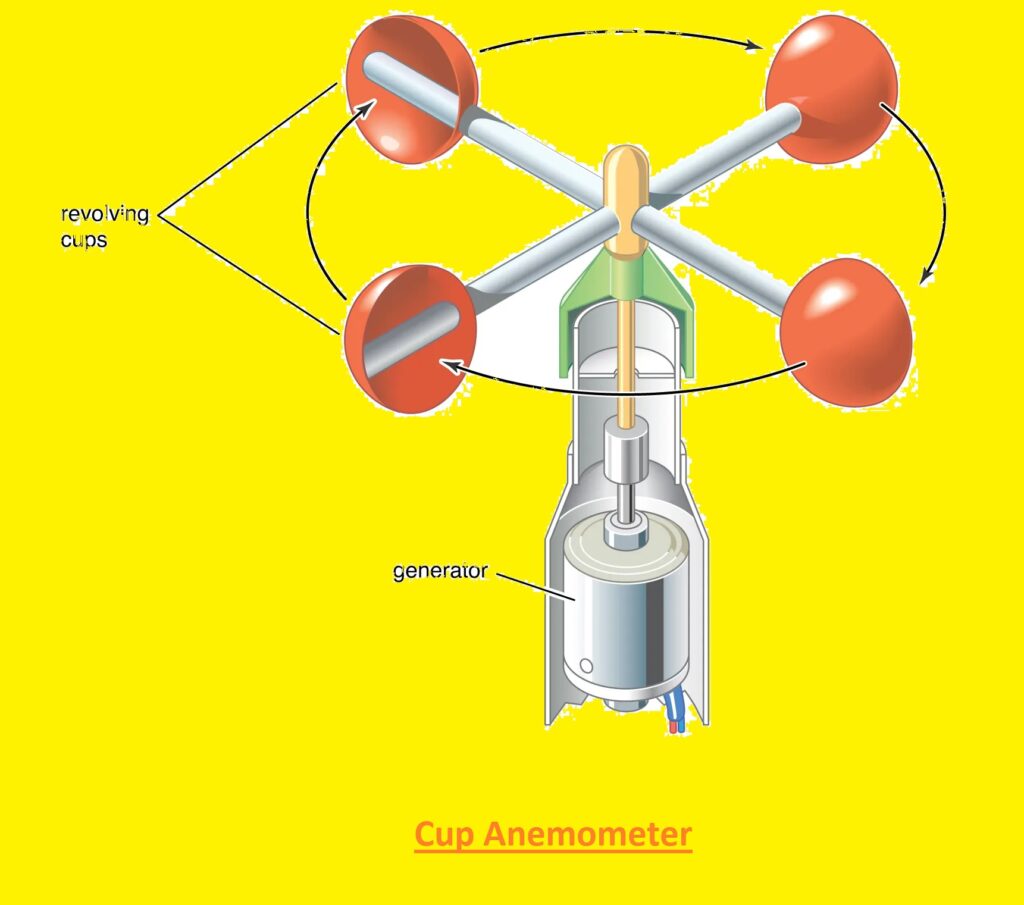 2. Vane Anemometer
Vane anemometers, also called wind vanes, not only calculate wind speed but also find wind direction. They have horizontal arms with a fin or arrow at one end. The fin aligns itself according to wind direction, while sensors capture the wind speed as the arm rotates.
3. Hot Wire Anemometer
Hot wire anemometers use a fine wire that is heated by an electric current. As the wind flows past the wire, it cools down, and the variation in electrical resistance is measured. This data is then used to measure the wind speed correctly.
Read also: What is Hot Wire Anemometer? 
4. Ultrasonic Anemometer
Ultrasonic anemometers use ultrasonic sound waves to calculate wind speed and direction. It is an advanced-level device consisting of many transducers that release and receive ultrasonic signals. By analyzing the time it takes for the sound waves to travel, the anemometer calculates the speed and direction of the wind
How Does an Anemometer Work?
Anemometers' working principles are different on the basis of types. Cup anemometers use the mechanical rotation of cups, vane anemometers are based on the rotation of a fin, hot wire anemometers calculate variations in electrical resistance, and ultrasonic anemometers measure the time of ultrasonic sound wave propagation.
Irrespective of the type, anemometers transform the captured data into electrical signals, which can be shown on digital screens or recorded for further analysis. Some anemometers also have additional sensors to calculate humidity, temperature,  and atmospheric pressure.
Factors Affecting Anemometer Accuracy
While anemometers come with valuable wind speed calculations, certain parameters can affect their accuracy. Calibration, location sensor quality, and obstructions in the airflow can introduce faults in the readings. Regular maintenance, calibration, and proper installation can help mitigate these problems and provides reliable data.
read also Which AWG is Best for 60 Amp Breaker
Applications of Anemometers
Anemometers are used in various fields and industries. With weather forecasting and aviation, anemometers are employed in research environmental monitoring, wind energy assessment, and building design. They are also used in sports like kiteboarding sailing, and windsurfing, where wind conditions have a high impact on performance and safety.
Advancements in Anemometry
Technology developments over time have produced anemometers that are more precise and sophisticated. The accessibility and use of anemometers have been enhanced by small wireless sensors, data loggers, and remote monitoring capabilities. These developments have created new opportunities for studying climate change, planning renewable energy sources, and monitoring the weather.
Tips for Using Anemometers
To get accurate measurements and reliable data, consider these tips when using an anemometer:
Configure the anemometer in an open area distant from obstructions.
Regularly calibration and maintenance of the device according to the manufacturer's guidelines.
Check for any damage existing in the vanes cups,, or sensors.
Keep track of temperature and humidity changes, as they can impact the readings.
Record and analyze wind speed data after some time for comprehensive insights.
FAQS
Q1: Is an anemometer used to measure wind speed?
Yes, an anemometer is used to measure wind speed. It is a special instrument designed for this purpose.
Q2: What is the use of an anemometer and its unit of measurement?
An anemometer is used to calculate the speed or velocity of air or wind flow. The measuring unit for wind speed is meters per second, it can also be defined in other units like miles per hour, (km/h), or knots.
Q3: Which instrument is used for measuring wind speed?
The device used for measuring wind speed is called an anemometer. It is used accurately measure the velocity of air or wind flow.
Q4: How does an anemometer measure airflow?
An anemometer measures air flow with the use of differnt depending on its type. Commonly used techniques include rotating cups or vanes, ultrasonic waves, thermal sensors, or pitot tubes. These techniques capture the effects of airflow and convert them into measurable data.
Q5: What is used to measure airflow?
Airflow can be measured through instruments like anemometers, pitot tubes thermal anemometers,, flowmeters, or mass flow sensors.
Q6: How does an anemometer measure air velocity?
Depending on the type, an anemometer measures air velocity using a variety of different principles. For instance, cup or vane anemometers measure wind speed based on the rotation of cups or vanes, which is directly proportional to the wind speed. thermal anemometers use the change in temperature or electrical resistance of a heated wire. ultrasonic anemometers use the time it takes for ultrasonic waves to travel between transducers to measure air velocity.
Q7: What is the unit of airflow measured by an anemometer?
The specific instrument and its settings determine the anemometer's air flow measurement unit. Liters per second (L/s), cubic meters per second (m3/s),  cubic feet per second (CFS), and cubic feet per minute (CFM) are examples of common units.
Q8: What device measures velocity?
There are many instruments that can measure velocity, including anemometers, speedometers, radar guns, pitot tubes, flowmeters, or Doppler radar systems. The specific module employed depends on the application and the kind of velocity being measured
Q9: How to measure speed?
Depending on the conditions, a type of tools and methods can be used to measure speed. An anemometer or flowmeter can be used to calculate the speed of a fluid flow, while a speedometer or radar gun can be employed to measure the speed of a moving vehicle. These instruments accurately determine speed by applying a variety of physical principles. Here is an explanation of the many speed measurement devices.
Speedometers: These measures the speed of a vehicle by using a rotating wheel or a radar gun.
Anemometers: It measure the speed of wind by using a variety of methods.
Stopwatches: It calculate the time it takes for an object to travel a certain distance.
Q10: Is velocity used to measure speed?
Yes, velocity is widely employed to quantify speed. Velocity is a vector quantity that contains both speed and direction. But, the "speed" and "velocity" are interchangeably used in different common applications to define the magnitude of the velocity vector.
Q11: How is the velocity of flow measured?
Depending on the different conditions situation, differnt methods and instruments can be used to measure flow velocity. Anemometers, flowmeters, pitot tubes, Doppler ultrasound, and systems for measuring velocity using lasers are a few typical techniques. For accurate flow velocity determination, these devices rely on a number of physical principles.
Read our latest Electronic Guides: