Hi readers I hope you all are doing great. In this post, we will have a detailed look at Ward Leonard System & Solid State Speed Controllers. The first time in 1891 Henry Ward Leonard created the Ward Leonard speed control system that helps to find the speed of DC motor. It is a simple armature speed control method. In this method, the motor exists and for power delivering Dc generator is used. For speed control of motor variables voltage is given to the armature circuitry.
these variable voltages are provided with the use of a motor and generator combination. In this post, we will discuss its circuit and work with detail. So let's get started with Ward Leonard System & Solid State Speed Controllers.
Ward Leonard System & Solid State Speed Controllers
For speed variation of dc motors either excited, shunt or compound dc motor usually, three techniques are used first one is through changing field resistance, varying armature voltage, and varying armature resistance.
In these methods, armature voltage control is mostly used because it allows speed changing without varying the extreme torque.
Numerous techniques of motor control have been created to get benefits of large torque and changeable speed exist from armature voltage control of dc motors.
When there were no solid state electronic elements created that was not easy to generate a variable dc voltage.
In general, the normal method to change the armature voltage of the dc motor supply through dc generator.
The armature voltage control network for these types is can be seen in below figure.
This diagram indicates that ac motor operating as the prime mover to the dc generator in other words generator is working as a load of the dc motor.
This type of combination is known as the Ward-Leonard system.
In this combination armature voltage of the motor can be regulated by changing the field current of the generator.
This armature voltage permits the speed of the motor to smooth change among less value to base speed.
The speed of motor can be regulated over the base speed by decreasing the field current of motor.
Through this configuration net motor speed control is get.
If the field current of the generator change polarity then polarity if the armature voltage of the generator also changes.
It also revers the motor direction of movement. So through this we can get different ranges of speed values in any direction of movement through Ward Leonard dc motor control network.
The second benefit of Ward Leonard System is that it can also resend hte motor energy of moving the power lines. If a large load firstly increases then decreases through from the dc motor existing in Ward Leonard network in case of load decrement.
In this technique lot of power is needed to lift the load in first position can be restored, decreasing the price of motor.
The certain modes of working of dc motor are shown here.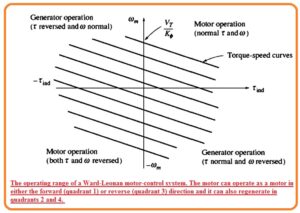 When motor is operating in the normal direction and providing torque in movement direction so it motion relies in ist quadrant.
If we reversed the field current of the generator which will cause the reversing of the terminal voltage of the generator in results reversing the armature voltage of motor.
When armature voltage reversed having motor field current constant then torque and speed of motor reversed and so the motion of motor relies in 3rd quadrant.
If we reverse one out of torque or speed so the motor will operate as a generator and sending back power to the system.
Since Ward Leonard system causes movement and regeneration in any direction. It is known as 4th quadrant control system.
The drawbacks of Ward Leonard system also exist. For this method, you must need three machines having the same rating values that will make it costly for you.
The second drawback is that the efficiency of these 3 machines must be less than a single machine.
As Ward system is expensive according to above mention causes so in place of it there is a new technique is used than called SCR base controller circuits.
SCR Speed Control Cirucit
The basic dc armature voltage controller circuit can be seen in below figure.
The average value of voltage is given to the armature winding of motor and so the average speed of motor relies on the fraction of time voltage provided at the armature windings.
This turn relies on the relative phase for that SCR in the rectifier circuitry is linked.
This specific circuitry is able of providing armature voltage having single polarity therefore motor can be reversed through reversing the connection of field windings.
Note that it causes the armature current to move through the positive point of motor because the current can not move back direction through SCR.
In this way motor avoids becoming regenerating and energy given to motor can not get again. In simple words now motor is operating as motor, not a generator.
This category of circuitry is called 2 quadrant controller can be seen in the below figure.
The circuitry that has some advancements than previous has the ability to provide armature voltage through any polarity can see her.
By this category of the circuit, the motor can become generator. If the polarity of field circuitry of motor can be changed then above shown solid-state circuit operates like full 4 quadrant controller similar to Ward Leonard system.
The 2 quadrants or 4 quadrant controller create through SCR is less expensive than the use of two extra motors used in Ward Leonard system.
Due to these features in different applications, a solid-state control system is preferred over Ward Leonard System.
In 2 quadrant shunt, dc motor circuit having armature voltage speed control can be seen in below figure.
The block diagram of this circuit is shown below.
This circuit comprises of constant field voltage provided with the 3 phase full wave rectifier and changeable armature terminal voltage provided through 6 SCRs linked with the 3 phase full-wave rectifier.
The voltage provided to the armature circuit of motor is regulated through varying the firing angle of SCRs linked to the 3 phase full phase rectifier.
As this motor controller circuitry comprises of fixed value of voltage and variable armature voltage it is not capable to regulate the speed of the motor at speed less than or equal to base speed.
The main parts of this circuit are explained here.
The protection circuitry part of is for protection of motor through large armature current, less terminal voltage and loss of field current.
The start/stop circuitry that used to make and remove the connection of motor with the line.
The large power electronics parts convert three-phase AC power to dc power for armature and fields circuits of field.
The fewer power electronics portion used to deliver pulses at the input of SCR through the armature voltage of motor.
That is a detailed post about Ward Leonard System & Solid State Speed Controllers if you have any further query ask in the comments. Thanks for reading. Have a nice day.