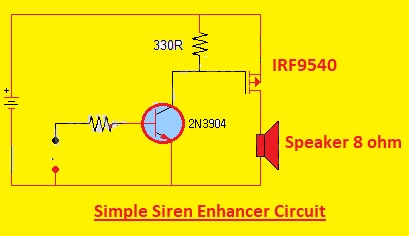 Hello, readers welcome to the new post. Here we will discuss Simple Siren Enhancer Circuit. A siren is a device that makes a loud noise. Civil defense sirens are configured on fixed points and operated to warn of natural disasters or attacks. Sirens are employed on emergency service automobiles like ambulances, police cars, and fire engines. There are two main types first is mechanical and second one electronic.
Many fire sirens (used to summon volunteer firefighters) serve as a tornado or civil defense sirens to alert the entire community to impending danger. Most fire sirens are either mounted on the roof of the firehouse or on a mast next to the firehouse. Fire sirens can also be mounted on or near government buildings, on tall structures such as water towers, and in systems where multiple sirens are spread around the city for better sound coverage. Most fire sirens are single-tone and mechanically driven by electric motors with a rotor attached to the shaft. Some newer sirens are electronically controlled speakers. Here we will make siren enhancer circuitry that enhances the noise of sound for places where it is needed. In this post, we also learn how we can get project creation services from PCBWAY which is the best PCB and PCBA services provider. PCBWay is a PCB manufacturer and PCB assembler. Shenzhen has been a world center for electronics research, development, and manufacturing for decades. By cutting out all the middlemen, they successfully switch to savings and bring total satisfaction to our valued customers in their PCB/PCBA purchases. That's why 100% of our old customers come to us for their future orders.
They also offer assembly services to our PCB customers. Their online pricing software can instantly offer your PCB assembly service from us, through a rough calculation you can still have an idea of ​​the actual cost to help you decide to use our service because our PCB prices are as competitive as our PCBs . They have accumulated many reliable and competitive parts suppliers in the world to ensure the quality and cost of purchasing parts. All your work can be done under one roof, either SMT, Thru-hole or Hybrid.
PCBWay is definitely your trusted PCB & PCBA & CNC | Partner for 3D printing! In addition to friendly service and on-time delivery, we also focus on producing high-quality products that meet or exceed customer expectations
Here some PCB standards of PCBWAY are described..
Item
Advanced PCB
Standard PCB
Engineering
one file/1 days+
Senior Engineer
mid-level engineer
(1 files/hours)
Material
Shengyi, Rogers, Arlon, Isola, Omega, Nelco,3M etc.Meet IPC4101 class B/L
KB(keyboard)/GDM(golden-max) Meet IPC4101 class B/L
Ink,Solder masks
Rohm&Haas,TAIYO,Kuangshun,Meet IPC-SM-840 class T
TAIYO,Kuangshun,Meet IPC-SM-840 class T
Drilling
Min Mechanical Hole Size 0.15mm, Laser hole 0.1mm
Min Mechanical Hole Size 0.2mm
Plating
PTH (Hole copper thickness≥20um),IPC 3(25um)
PTH(Hole copper thickness≥18um)
Soldermask offset
±2mil
±3mil
Dimensional deviation
±0.13mm
±0.2mm
Warping angle
0.75%
1%
Test method
A.O.I, Kelvin Four-terminal sensing, Microsection Inspection, Solderability Test, Impedance Test…
A.O.I.,Fly Probe Testing, E-test fixture
Simple Siren Enhancer
The siren enhancer is an electronic device that is used to operate different devices like UM3481 and UM3561 in pair combinations.
This circuitry is the best choice for applications where the high sound of the siren is required. Here we will make ten-watt circuitry of a siren enhancer through the use of IRF9540 MOSFET of P-Channle. which are the main components of our projects.
The IRF954 is part of the MOSFET family that is P Channel configured. MOSFET has the ability to operate loads that has twenty-three ampers current and volts value less than a hundred volts.
To dissipate heat there is a resistance of 0.117 ohms is configured that increases the efficiency of MOSFET
Project Components
The main components of the project are listed here
Resistances
Speaker
Voltage source
PCB from PCBWAY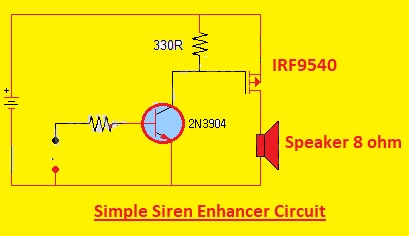 Circuit Design and Working
Here you can circuits are created through the use of all listed components. In this project we have used 1.2k and 330-ohm resistance, a speaker of eight home values used, and NPN configured 2N2904 transistor is used. The transistor is a device that is used as a switch and amplifier.
A voltage source of nine to twelve volts is used. This circuitry is working in two phases. First, one is the output generated from the siren given to the transistor of the NPN structure. As transistors are working as amplifiers here so they will amplify the input signal to a high value and then move to another part of the circuitry. This amplified signal operates as the control for the gate of MOSFET. This signal is again amplified by the MOSFET after the transmission to the speaker that releases the sound of the siren to the high value that we needed and can be listened to longer distant
Types of Siren
Pneumatic Siren
A pneumatic siren, which is a free aerophone, consists of a rotating disk with holes in it known as a chopper, siren disk or rotor so that material between the holes interrupts the airflow fixed holes at the external part of the unit.
As the holes in the rotating disc alternately prevent and allow the flow of air, the pressure of compressed and diluted air alternates, i.e. sound.
Such sirens can consume a large amount of energy. To reduce energy consumption without losing sound volume, some pneumatic siren designs are reinforced by forcing compressed air from a reservoir, which can be replenished by a low-power compressor through the siren disc.
In US English language usage, automotive pneumatic sirens are sometimes referred to as mechanical or mountain sirens to distinguish them from electronic devices.
Mechanical sirens that get power through electric motors are often so known as "electromechanical".
One example of this siren is the Q2B siren. Due to its high current draw (280 amperes when power is applied), its use is normally limited to fire apparatus, although it has seen increasing use on Type IV ambulances and rescue squad vehicles.
Its distinct tone of urgency, high sound pressure level that is about 123 dB at 10 feet, and square sound waves help to explain about is  its effectiveness
Electronic Siren
Electronic sirens contain circuitry such as oscillators, modulators, and amplifiers that synthesize a selected siren tone (wail, scream, pierce/priority/phaser, hi-lo, scan, airhorn, manual, and several others) that is played through external speakers. . It is not unusual, especially with modern fire trucks, to see an emergency vehicle equipped with both types of sirens. Police sirens often also use a tritone interval to help attract attention. The first electronic siren that imitated the sound of a mechanical siren was invented in 1965 by Motorola employees Ronald H. Chapman and Charles W. Stephens.
Applications
It used in different devices such as PA systems and loudspeakers
It used in police and ambulances sirens
It used in civil defense alarming systems
It is used in industries to give information about fire and other dangerous operation
It is the main part of the security system and monitoring operations
That is all about the Simple Siren Enhancer Circuit all details has explained if you have any questions ask them here