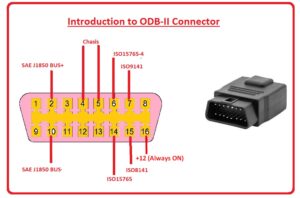 Hello, friends welcome to the new tutorial. In this post, we will learn about Introduction to ODB-II Connector. The full form of OBD is onboard built-in diagnosis. It is diagnosis modules that are employed in currently used cars. It helps to regulate and observes the speed mileage and fuel emission report of cars.
It also helps to monitors the performance of the engine. It is also called ECU or engine control unit. Here we discuss its different features working, pinouts, and practical applications. SO let get started with Introduction to ODB-II Connector.
Introduction to ODB-II Connector
OBDII is a diagnostic module that is used in different types of cars to monitors the operation of that car.
The get through these modules from the engine control unit helps to make the overview of cars when any fault exists in that cars.
For practical observing, these modules look at below of your car dash where it exists.
It relies close to the steering wheel of a vehicle on and also on can exist close to covers
Before making the male connectors to OBD2 female connectors make sure they fit to this category.
The pinout number sixteen of this module gets the power from the battery of the car.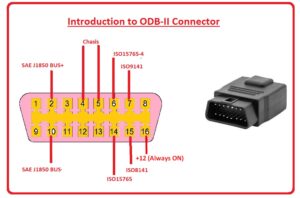 How to Log OBD II data
There is some processes to log in the data.
First of all links OBD2 logger with the connector
Send the request frames through CAN
The correspondent engine controls negative response frames through CAN.
OBD2 Pinouts
The pins details are explained here
Pinout 1,3,8,9,11,12,13: These pins are called blanks and vendors specific and not used for normal interfacing
Pin 2: this pin name is SAE J1850 Bus+ and employed in GM cars and used variable pulse width
pin 10: It is named as SAE 1850 Bus- uses variable pulse width and is also employed in GM cars.
pinout 4, 5: these pins work as ground
pinout 6: it called ISO15765-4 CAN High it follows the two-wire can protocol
pinout14: it denoted as SO15765-4 CAN Low and follows the two-wire CAN protocol
pin 7: it follows the asynchronous protocol
pin 8: it also follows the asynchronous protocol
That is all about ODB-II Connector. I have explained all details about ODB-II Connector if you have any further query ask in the comments. thanks for reading have a good day.