Hi friends I hope you all are doing well. In today's post, we will have a detailed look at Introduction to SAMD21. This is a microcontroller which is a thirty-two bit less power-consuming device. It processor os ARM Cortex based generally available in thirty-two to sixty-four pinout packaging. The frequency value over which it operates is forty-eight megahertz.
This module is an exit in simples design with the different types of features such as hex code compatibility, address mapping in a linear fashion. In today's post, we will have a detailed look at its working, pinout features, application, and some other parameters. So let's get started with Introduction to SAMD21.
Introduction to SAMD21
The ATSAMD21 is an ARM cortex based microcontroller created by the microchip and uses less power during operation.
this controller board is consists of two fifty-six kilobyte flash memory and a static ram of thirty-two kilobytes.
The value of frequency required for this board is forty-eight megahertz.
This MCU has the ability to interfacing with the one twenty channels.
The the value of voltage range for which this controller operates is lies from 1.62 volts to 3.63 volts.
There are 6 communication protocols which are UART, SPI, and I2C are created on the board.
There are sixteen bit 3 timers are and thirty two bit RTC is provided at this board.
Features of SAMD21
These are the main features of this controller which are discussed here with the details.
This board comprises the central processing unit of having a clock speed of forty-eight megahertz.
This board comprises of two fifty-six kilo byte programmable memory.
There is static random access memory of thirty two-kilo bytes is created on the board.
The temperature range over which it operates is lies between minus forty to eighty-five-degree centigrade.
There are six serial peripheral interface and six I2C communication protocols are exist on the controllers.
there is a single universal serial bus mode is exist at this board.
There is fourteen analogs to digital inputs exist at the board.
There is two comparators used in these controllers.
The inner oscillator of thirty two-kilo hertz frequency exists at this controller.
There are thirty-eight pinouts are available on the board.
Pinout of SAMD21
These are the main pinout this board which is discussed here with the detailed.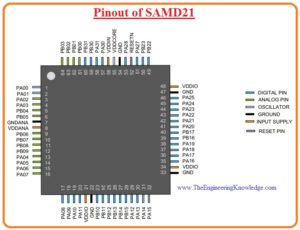 Block diagram of SAMD21
The block diagram of this board is shown in the below figure.
That is a detailed post about SAMD21 if you have any further query aks in comments, thanks for reading. Have a good day. I hope you have enjoyed this tutorial. To get further interesting posts related to different types of microcontrollers stay tune. Some other related controllers are already discussed with the details.