Hi, friends welcome to the new post. We will discuss Introduction to LM4558. It is a monolithic IC circuit that is used for dual operational amplifier applications. It is preferred for volts followers circuits since its features like common-mode input volts and the non-existence of a latch-up maker.
This module is protected from the short circuit and inner frequency compensation that makes sure stability in the absence of outer elements. Here we will cover its different functions working and some other points. That is described here so let get started Introduction to LM4558.
Introduction to LM4558
The LM4558 IC comprises of two operational amplifiers and is used for amplification circuits. its basic functions are comparator, differential amplifiers, and mathematical operations like addition subtraction.
It is the option of a fine for voltage follower circuits due to the existence of a high-value common-mode input volts range and not the existence of latch-up.
Its best feature is that it can be used in two different applications due to the existence of two operational amplifiers
LM4558 Features
Its main features are explained here
Its net power dissipation is two hundred megawatt
Its operating temperatures is zero to seventy centigrade
Its dual supply volts are plus fifteen and minus fifteen
Its single supply volts are plus five to plus fifteen volts
Its common-mode rejection ratio is eight decibel
Its moisture tracking level is three
It gives the less not at input resistances
It has large common-mode and differential volts ranges
It has not latched up and no frequency compensation is needed
It needed regular protection for short circuit
It has less noise interference for operation amplifies
It consists of two different operational amplifiers
LM4558 Pinout
Its pinout are explained here
Pin 1ouput of first operational amplifier
Pin 2 is inverting input of first operational amplifiers
Pin 3 is the positive input of the first operational amplifier
Pin  4 is ground
Pin 5 is positive input of the second amplifier
Pin 6 is the negative input of the second amplifier
Pin 7 is the output pin of the second operational amplifier
Pin 8 is the input supply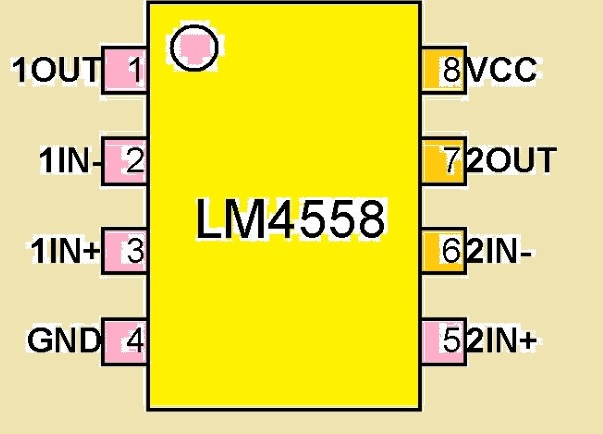 LM4558 Applications
It's main applications are discussed here
It used for different measuring instruments
Used in different industries
Used for logic volts translation
Used for peak detectors
Used for comparators circuits
Used in oscillators
Used for amplifiers circuits and different mathematical operations
That is all about the LM4558 all details have been explained if you have any further queries ask in comments. Thanks for reading have a nice day