Hello, readers welcome to the new post. Today we will discuss How to use the PCBWAY Plugin in FreeCAD. PCBWAY is one of the best PCB service providers in the world related to PCB and PCBA. To provide the best services to their users, they introduced different features and services. Now they are enhancing their design process through making collaboration with FreeCAD PCB software. Both are working very closely to provide easy services for PCB design and manufacturing a single platform and just one click.
In simple words, you just have to design your PCB boards from FreeCAD software, and through the PCBWAY plugin in this software can get the manufacturing services from this PCB supplier. This process helps to make all procedures smooth and helps to get high-quality boards. In this post, we will discuss details about how you can get PCB manufacturing services when you have designed PCB in FreeCAD. They also have a plugin in KiCAD software that will also help you to design and get easy PCB services.
Introduction to PCBWAY and FreeCAD
PCBWAY is the best PCB service provider and they always have room to make improvements in their services to provide the best features and products to their clients.
Currently, that made collaboration with FreeCAD PCB design software that is also known as open source software for CAD. Freecad is a very simple software that is used for PCB design creation. That considered as compatible PCB design software than others
PCBWAY making team with the FreeCAD software helping their users to make high-level PCB designs. As if you do not have a good design can not get high-quality PCB boards
So if you need an accurate design and PCB board you must get the PCBWAY plugin feature with FreeCAD.
As we discussed earlier PCB always focuses on quality services so they are making a high level of their design process by making a partnership with FreeCAD that is good for all electronic students and engineers.
FreeCAD is design software using this tool you can make your PCB design easily with they have two-dimensional and three-dimensional design features.
Through using this feature you can get a detailed overview of your boards and their operations
Through making collaboration it becomes easier to get high-quality boards than the previous
The engineers and experts are providing the details to use FreeCAD software to make PCB design and they are available to get any information
Advantages of FreeCAD Software
PCBWAY has a strong firm to make the design process easy as possible. So they are working in close partnership with FreeCAD as a team to fulfill the user's demands and needs.
FreeCAD helps to make designs for mechanical engineering, architecture, and the design of different products.
It is the best option for engineers to make three-dimensional structures and fine assembly of their projects
Through getting PCBWAY FreeCAD features you can use powerful tools that can help to make high-speed designs
PCBWay Plug-In for FreeCAD
PCBWAY three dimensional and CNC services are very commonly used and admired by their customers. After that now they collaborated with FreeCAD.
Through this collaboration, you can design three-dimensional models into real-life structures. FreeCAD is commonly preferred design software for technical staff and engineers
The completion of your three-dimensional design in FreeCAD just places an order to PCBWAY.
When you make your design on FreeCAD software your design will be forwarded to PCBWAY.
You have to press the save to Cart button to place an order with the related files upload very fastly.
When their engineers received this design data again check and review to make the final product.

How to Install PCBWAY Plugin in FreeCAD
First of all, you must have FreeCAD software installed in your computer
After that move to the tools option as shown in the below figure then you see Addon Manger in the new tab.
When you press this addon manager button new window will open there is a PCBWAY option that exists press it and start the installation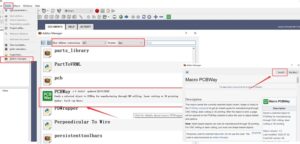 Manual Installation Process
For manual installation download the latest file from https://github.com/pcbway/PCBWay-Plug-in-for-FreeCAD
After that press MACRO place, the python file in the path, and press execute. Your plugin install.
That is all about How to use PCBWAY Plugin in FreeCAD. Through the use of these features of PCBWAY and FreeCAD, our two-dimensional and three-dimensional design has become easy and can be created with one click. And we do not have to search and find a different design that makes designs. So PCBWAY is considered as best in all services offered by them and they are growing day by day in the industry as they are introducing different features for their users