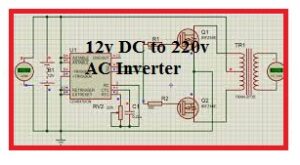 Hello, friends welcome to the new post. in this post, we will have a detailed look at How to Make 12v DC to 220v AC Inverter. In our power system, there is the use of ac power and most devices are designed o operate at the ac. The generation of ac is easy as compared to the dc since it can be easily transferred from one location to another which is a more reliable and easy way to use of this system
In some cases, there is the existence of dc power but it can not be used for such devices that are configured for ac operation. There is a need of such a device that helps us to make ac from dc. Such a device that converts dc to ac is called an inverter. It is now commonly used in different projects and industrial applications. In this post, we design such an inverter that helps us to convert the twelve volts dc in the 220 volts ac that is normally used in the electrical system. We use CD4047 integrated circuit compone in this project that helps us to make this projects. So let get started with.
How to Make 12v DC to 220v AC Inverter
There are numerous projects and electronic modules that work at the alternating current to provide these devices ac from dc source is a very difficult task since there is need of certain circuitry that do this process.
In other words, the UPS used in our home is big example that transforms dc in the ac to run our appliances.
Its configuration is such that it input power is ac which is then converted in the dc and stored in the battery linked to this device that saves this power in the form of dc.
When our ac supply that is using in our homes is cut off then the dc power stored in the battery of ups again converted in the ac and send to the load connected to the ups. '
The circuitry that performs this function for the transformation of dc to ac is called inverter that generally work to the transformation of dc to ac.
Here we have a complete look to design inverter for practical understanding that helps us to learn about its operation.
The circuitry we construct will convert twelve volts dc in the two twenty volts ac
To construct this circuitry the PCB board is designed from the most reliable and trustable PCB supplier that is PCBWAY.
It is a china based pcb creator who provides services related to PCB and its projects.It is situated in Shenzhen that is the hub of electronics-related services.
PCBWAY offering the services of fabrication and Printed circuitry board prototypes for more than a decade.
They always try to fulfill the all requirements and demands of their customers such as projects in reasonable prices, high quality that lack by others, and order delivery in a given time interval.
They always pride to deal with their customers in every service related to PCB board since they very well equipped and experienced in their work.
The assembly of our projects can see in the below figure that is designed and created by PCBWAY.
They cover all dimensions and requirements that we sent them in this project very accurately and precisely.
The order delivered to us was in given time and with reasonable prices that generally not offered by another supplier.
They offered PCB prototype services in just five dollars ten pieces of one to two layers in just twenty-four hours
The component used in this project is mentioned here.
MOSFET N channel
Transformer
Potentiometer
resistors
Soldering
Dc supply
PCB designed by PCBWAY
Light-emitting diode
capacitor
IC CD4047
Introduction to CD4047
It is the less power-consuming CMOS integrated circuitry. There are 2 modes of operation generally it shows the first one is the monostable and second one is astable.
With that, the configuration of this integrated circuit is easy in these modes of operation.
The voltage value s for which it can run is from three to fifteen volts
The finest voltage value for its operation is five volts where generally it prefferd to operate.
How to Make 12v DC to 220v AC Inverter circuit
In this circuit configuration, there is the dc supply of twelve volts is given at the input and after converting it two twenty volts are sending at the output that can be seen at the voltmeter.
The circuit configuration is simple that can be seen in figure
So I hope you have clearly got the idea of How to Make 12v DC to 220v AC Inverter circuit if you still have any confusion ask in the comments see you in next post have a nice day.