Hello readers welcome to new post. Here we will discuss How SMT Assembly Process and its types. This technique is used for creation of circuits and connection of components on the PCB boards. The resultant products is called SMD. With the passage of time this technique has been replaced the through hole technique.
It is helpful to connect the more components on the boards for given area of board. The components created through SMT are small size then created through use of through hole. It has small size pin outs flats contacts. Here we will discuss the details of SMT process and learn what techniques are used for processing the SMT. So let get started.
Types of SMT Assembly
There are 3 main types used for assembly of SMT Type I, type II and Type III. There is use of mixture of SMD and through hole elements and soldering techniques for assembly of SMT.
Type 1
In this category of assembly elements are linked at the side of boards where components are positioned.
Type II
In this assembly technique components can be link at the any side of board.
Type III
At one side for this assembly components are linked through use of SMT and through hole and other side just SMT components are connected. Due to application of components through two technique this needed high time.
Main Reason to get SMT from JLCPCB
The main reason that urges customers to get boards from JLCPCB are
Their initial prices are seven dollars and stencil charges are 1.5$
Prototype assembly can be get in just twenty four hours.
There is 230k plus SMD components are exist in the JLCPCB library.
For smt stencil they uses laser cut stainless steel
Shorts leads are not exist on the board.
How SMT Assembly Process at JLCPCB
There are different steps are used for SMT assembly that are discussed here.
Creation of Substrate
At JLCPCB first of all there is analysis of different components and board is done to make sure these are according to requirements after boards are created.
Use of Stencil
To make the structure smooth there is application of solder paste. It is done through use of solder pads.
Different types of stencil can be used but commonly used is stencil printer.
Different types such as PCB stencil solder paste stencil are used for SMT. Stencil helps to send the paste to the complicated area of board.
Application of Solder Paste
The application of solder paste is considered as main fact of SMT process. Solder paste is created through use of flux and powder. It helps to connect the solder pads with the SMC. For this process squeegee technique is employed.
SMT applications
Now PCB board is positioned in the pick and place machine and place on the conveyor with the electronic components that are going to connect on the board.
Reflow Soldering Process
There are 4 phases are involved in the reflow solder process technique. That are preheating thermal soak third one is reflow and last one is cooling.
Preheating helps to heat the all components lies at the board and board as well.
To minimize the components pads and increase the wetting process there is flux applied during the thermal soak.
In third stage reflow solder paste start melting and highest temperatures needed gets. The value of extreme temperatures should be less than the highest temperatures permitted for elements.
In last stage board temperatures decrease through cooling process and solder paste become sold to make connection of component firm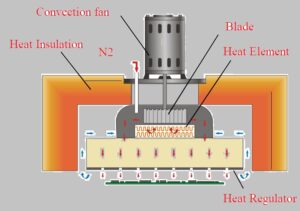 Final Checking of Board
After performing all previous steps the final inspection of SMD created done to check the overall result of the board and either it is according to our requirements or not.
That is all about the How SMT Process and its types all details are explained here. If you have further query ask in comments. Thanks for reading have a nice day.