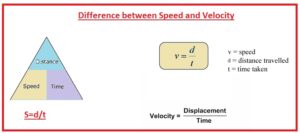 Hello fellows, I hope you all are doing great. In today's tutorial, we will have a look at Difference Between Speed and Velocity. . We can find the movement of an object with the calculation of distance completed by an object in a given time interval called speed. The speed is sometimes considered similar to the velocity since these 2 have some similarities. But these are different parameters of motion in science.
Velocity is a calculation of distance covered by a body in a certain direction. In today's post, we will have a detailed look at both these factors of motion and their relationship with each other. So let's get started with Difference between Speed and Velocity.
Difference between Speed and Velocity
Speed
Distance traveled by an object in unit time is called speed.
Speed tells about how fast someone is moving.
It is a scalar quantity.
the speed formula is s=d/t here s is speed d distance t time
its dimensiosn is M0L1T-1
main 4 types it has
uniform, average, instantaneous, variable
equal distance in equal time called uniform speed
same time is taken to  cover different distance called variable
total distance to total time ratio called average speed
Speed taken at any time called instant speed
A speedometer is used to speed measurements.
It denoted the rapidity of a body.
It is a rate of change of distance.
If the body covers some distance and moves back to the original position its distance speed will not be zero.
The speed of moving bodies is not 0.
Its SI unit m/s.
Anybody can have different velocities but has the same speed.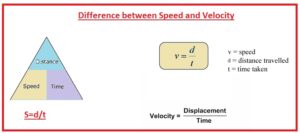 Velocity
The rate of change in the position of the body with time is called velocity.
It is equivalent to the body speed feature having direction and movement.
It mostly used in the science field of kinematics.
It is a physical term that has velocity tan magnitude.
Its unit is m/s other units are ft/s, km/h
Average velocity is Δv=Δx/Δt
angular velocity is ω=Δθ/Δt
If the body has zero distance its velocity is zero velocity
The velocity measured between two objects called relative velocity.
Its dimension is LT−1
The moving body has zero value of speed
Change in velocity called acceleration
Speed measured at any instant of moving object called instantaneous speed
The product of mass and velocity equal to the momentum.
It is a vector quantity.
It denoted the rapidity and location of a body.
It is the rate of change of displacement.
If the body covers some distance and comes to its original position its velocity will be 0.
The velocity of moving bodies can be negative, positive and 0.
Its system international unit is m/s.
That is detailed post about Difference between Speed and Velocity if you have any query about Difference between Speed and Velocity ask in comments. I tried my level best to make it simple for you. See you next interesting post, have a good day.