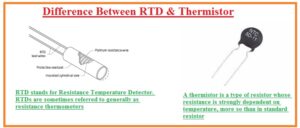 Hello, friends, I hope you all are doing great. In today's tutorial, we will discuss the Difference Between RTD & Thermistor. Both of these thermistors and RTD are used to find the value of temperature. But the basic difference between them is that RTD is constructed with metallic material and thermistor is constructed with the semiconductor material. Due to construction with the semiconductor materials, there are 2 temperature coefficients of thermistor positive and negative. But mostly thermistor has a negative temperature coefficient their resistance value reduces with the increment in temperature.
. The RTD is used to find large value of temperature. In today's post, we will have a detailed look at both RTD and thermistor with the details and compare them to find their differences. So let's get started with Difference Between RTD & Thermistor.
Difference Between RTD & Thermistor
RTD
The instrument that used to find the variation in temperature is called RTD or also called resistance temperature detector.
It is constructed with metallic substances such as platinum, nickel, copper, etc.
Its accuracy is less than the thermistor.
It is an expensive device.
It provides high resistivity.
The physical dimensions of this device are larger than the thermistor.
It used in different industries to find the temperature of machines.
Its hysteresis effect is less.
Its time response is less than the thermistor.
Its measurable temperature range is -230 centigrade to 660 centigrade.
Its characteristic curve is linear.
It is a less sensitive material.
It operates on the different types of curvature and tolerances values normal operation curve for this device is DIN.
The types of RTD is UPRT that offered a high value of accuracy.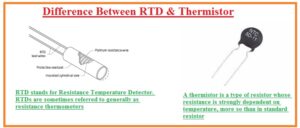 RTD Types
There are 2 basic types of RTD that normally employed like thin-film coils and the third one is wire.
The above types generally used at the industrial level there is some other types that used for measurement of less temperature than higher temperature devices that used in industries.
Carbon resistor RTD
These modules are less expensive generally used for less value temperature measurement. There is no effect of strain and hysteresis forces for devices
Strain-free RTD
These devices used to measure temperature values close to 961 centigrade. There is a platinum crated coil is wounded on it and there can easily change their state according to temperature change to show temperate values.
Thin-film RTD
In this device temperatures, a measurement module is created through the use of platinum or plated ceramic substance.
The thickness of the platinum material layer is almost one to ten nanometer. To save this layer from outer enviornment there is coted of glass is exist on it
Thermistor
It is a heat-sensitive device whose resistance value varies with the change in temperature.
It is manufactured with semiconductor materials.
It provides high accuracy. So we can measure a small change in temperature due to the negative temperature coefficient.
It provides fast response time.
It is a less expensive material.
A thermistor is a combination of thermal and resistor.
Its practical applicaton are inrrcu currnet handler as tempratuer mesurig device.
It has two temperature coefficient firs one is positive and second one negative
Its resistivity is less than the RTD.
Its hysteresis effect is large.
Its graphical representation is nonlinear.
Its sensitivity is larger than the RTD.
Its physical size is less than the RTD.
It used to find the temperature of devices used in a home.
Its measured temperature range is -60 to 15 centigrade.
It has two types NTC and PTC in NTC resistance drop with temperature rise and in PTC resistance rise with temperature rise.
PTC used to control overcurrent and used in series combination.
That is a detailed post about the difference between RTD and Thermistor if you have any queries ask in the comments. Thanks for reading. Have a good day.