Hi, readers welcome to the new post. In this post, we will have a detailed look at Difference Between Router and Switch. These 2 are such devices that used to make connections in a certain network. The use of router at the smallest route to get certain packaging of networking at their required position.
The router used to make the connection at a single location among the different networks and operation lies in form or layers but a switch is used to make connection among the different devices. Here we cover some basics related to this two device with detail So let get started.
Difference Between Router and Switch
Introduction to Switch
The configuration of the different resources by making links among the different devices such as computers, printers called a switch.
In different buildings and campuses, there is a connection created through the use of switches among different devices.
The transmission of data from one point to another is done through the use os switch then it get transit to other components of the network
Through this device, we can know the location of the transmitter, and a response can be provided back to that certain point.
Introudciton to Router
The router is a networking module that sends the data among the different types of networks using the computer.
Router helps to regulate the direction of different functions at the internet. Ther is data transmission occurs at the inter in the shape of data packaging?
The data is transmitted from one packing to another which makes the internetworking till that move to that required point.
There is 2 or more than 2 data lines are a link to the router having a different Ip address. if data  reach at the single line and router get info about the location of the network and then data existing in that packet move to ahead
Comparison Between Router and Switch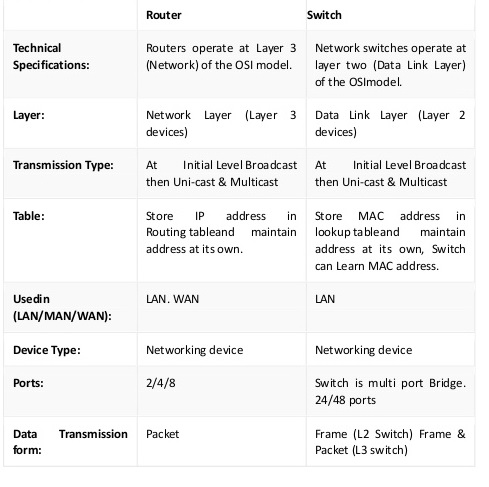 What is Router
The router is used to make connections among the different networks.
There are 2 types of network used in this configuration first is WAN and other is LAN.
Dta tranmitted in form of packet.
Its operating layer called the network layers.
IP address is used for this configuration.
It is expensive than the switch.
This is a wireless and wired connection is used.
It supported to the NAT and PAT
What is switch
This device used to make link among devices used in the network
The operating layer in this device is link layer.
Network types for this device is LAN
Data transmitted in form of frames and packets.
The MAC address used for data location.
It has two, four, eight ports.
It is less costly.
It does not support to NAT and PAT.
that is a detailed post about Difference Between Router and Switch if you have any further query ask in the comments. Thanks for reading have a nice day.