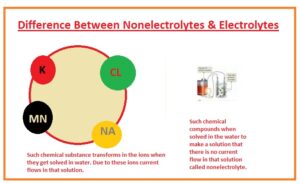 Hi, readers welcome to the new post. In this post, we will have a look at Difference Between Nonelectrolytes & Electrolytes. There are 2 basic types of chemical compounds on the basis of their conductivity in liquid solution. The first category is an electrolyte and the second one nonelectrolyte.. Such chemical compounds that solve in liquids like water to make ions called electrolytes and there is no creation of ions for nonelectrolyte in solution.
in this post, we will cover the basics of these two features of compounds. So let's get started.
Difference Between Nonelectrolytes & Electrolytes
Electrolytes
Such chemical substance transforms in the ions when they get solved in water. Due to these ions current flows in that solution.
Only such compounds show this property that belongs to ionic compounds that make cations positive and anions negative ions in the solution
the movement of ion creation after the solution is uniform in the solution.
This solution shows neutral behavior till the point when the current is provided to this solution so the current start to flow in the solution due movement of these ions.
Positive shows movement to the electrode that has a high density and anions to the second electrode.
Due to the ion's movement current flows in the solution.
Normally 2 main types of electrolytes first one is weak and the second one is a strong electrolyte.
That compound that makes complete ions in the solution called strong electrolyte and other called weak.
As strong electrolyte converted into the ions so there is no neutral compound in the solution while in weak electrolyte there is some amount of neutral to incomplete ionization.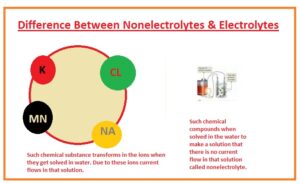 Nonelectrolye
Such chemical compounds when solved in the water to make a solution that there is no current flow in that solution called nonelectrolyte.
This solution are created through the use of covalent compounds and does not completely dissolve in the liquid after creates a solution
The example of nonelectrolyte are compounds created through carbon like a hydrocarbon.
There are such compounds that completely solve in the water but there is no creation of ions in the water.
in that glucose solution, there is molecules  but not ions due to that features sugars fats, and alcohols are nonelectrolytes
Comparison Between Nonelectrolytes & Electrolytes
What is Electrolytes
Such compounds that complete parted in the ions when solving in the water
In these compounds, there is an ionic bond that exists
These compounds are created through the combination of salts acids and bases.
The solution created by these compounds reactive in nature.
The compound type for this substance is polar.
An example is sodium..
What is Nonelectrolytes
Such compounds do not convert in the ions when solving in the solution.
These substances show the non-reactive behavior means current does not flow in that solution.
this substance is created through the carbon compounds or hydrocarbon
There is a covalent compound exists in these compounds.
Their nature is non-polar.
An example is ethanol.
That is a detailed post about Difference Between Nonelectrolytes & Electrolytes if you have any further query ask in comment Thanks for reading have a nice day.