Hello readers welcome to new post. here we will discuss Difference Between Fuse and Circuit Breaker. There are different types of components and devices used in power systems to avoid any damage. Most commonly used as fuse and circuit breaker.
In this post we will discuss different paramerts to find differences between these two devices. So let get started Difference Between Fuse and Circuit Breaker
Difference Between Fuse and Circuit Breaker
What is Fuse
In an electrical system fuse is a protection component that used for protecting the overcurrent existing in the circuit.
It consists of a metallic component that melts when larger current passes in the fuse and stops the extra current flow.
When a high current passes its wire get melted and has to be repairs according to the fuse used.or rewired, depending on its type.
Fuse is very older device that is employing in the power system since starting or electrical system
There are different fuses are constructed on the basis of their uses structures rating and other uses.
The current features and time of operation are selected for the operation of devices.
Fuse used to protect the system from overload, mismatched loads, and other electrical faults
If a main wire gets damaged linked to metallic body which is linked to the ground short circuit caused and fuse melts
Fuse operation lies on the conducting material features
Fuse can use only one time
Tehre is not sing or light it shows when operate like a breaker
There is no need of any auxiliary connection for this
It does not work as switch-like breaker
Not depends on the ambient temperature
It protects the systems from the power loads
Its operating time is 0.002 S
It is an automatic device and less expensive
What is a Circuit breaker
Circuit breaker used in the system to break the circuit from protecting the system from faults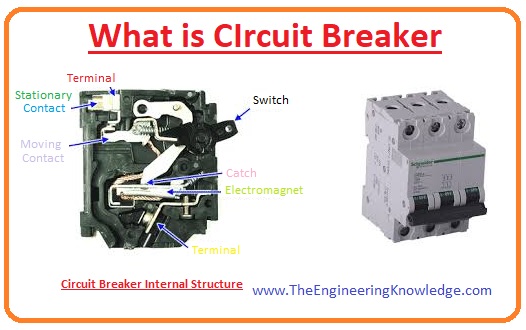 It working can be mechanical and automatic due to structure configuration
Due to need of high accuracy in system time configured for breaker is maintained for good function
Its main function is that disconnect the flow of current if a fault exis in the system
It is also called the OCPD device
Its works based on the switching and electromagnetism phenomena
If it operates one time can be used again and again
When work give an indication about its operation
It can be used as a switch
Its operation is based on ambient temperature
It is mostly used to protect the system from short circuits and overloads
Its operating time is 0.02 to 0.05 second
Tehre are different types of breakers used
It is more expensive than the fuse
There are different types of the circuit breakers are used
Oil circuit breaker.
Air circuit breaker.
SF6 circuit breaker.
Vacuum circuit breaker.
That is all about the Difference Between Fuse and Circuit Breaker all details has been explained. If you have any further query ask in the comments I have give a details overview about the fuse and breaker that will helps you to get a details to overview about your projects and the practical implementation of breakers.