Hello, readers welcome to the new post. In this post, we will learn DIfference between Double-sided and Multilayer PCB boards.  The word PCB stands for printed circuit board, it is a circuit board that is used for the construction of different circuits on this board the substrate at which different paths are designed by the copper for the connections of different components used for the circuit. With the creation of this circuit board, our complicated wiring system for the production of circuits has been eliminated. This circuit board is now used in almost every electronic component like from calculators to different devices used in medical industries consisting of PCB.
There are many types of PCB according to their use and construction such as single-sided PCB, double-sided PCB, Flexible PCB, Rigid PCB, Rigid-Flex PCB, etc. In today's post, we will look at the multilayer type of printed circuit board and double-sided PCB. There are numerous PCB suppliers are working in this universe. Here I want to mention that the best and reliable PCB supplier that comes with different types of PCB boards such as single-sided, double-sided rigid PCB. with that PCB they also offered multilayer PCBs with affordable prices can easily get for anyone. The best PCB supplier is PCBWAY. PCBWAY comes with these boards and provides all the needed requirements for a single platform. PCBWay offered standard PCB, they can help to produce 2-14 layers, even more layers for choosing advanced PCB. You can get HDI for 4-layer or more. Through-hole board PCB is offered in advanced PCB with IPC 6012 class 2. Layer advanced up to thirty layers can get. Standard PCB in material FR-4, Aluminum, and rogers can get. In standard PCB you can get solder masks in colors Pink gray orange and transparent solder masks with Black FR4 also available.
To get the board just have to send the Gerber to the PCB team. They will get the detailed overview and make according to that information and will send your boards in a given time interval. All in all they not just offered the PCB boards but also high-level standards that everyone needs to meets. So I recommend you to get the boards for your different projects So let get started.
Multilayer PCB
Multilayer PCB consists of a minimum of 3 and larger than three numbers of a layer that has conductive paths.
All these layers have some insulation material among them and are connected with one another through some adhesive material.
This structure of a large no of layers provides a large space for the construction of circuits.
The linking among the layers of the circuit board is done by the plating through-hole method.
At the central portion of an insulating substance, it has 3 conductive sheets that can also define conductive track on board.
Due to the complicated structure of a large no of layer its design is like the rigid printed circuit board, not possible to make it similar to a flexible PCB.
Its main benefits are that if you are going to complicated circuits that need a large number of components then you can assemble one hundred layers on a single board.
But mostly used no of layers are four to eight as it provides a facility to handle complicated projects.
Some cell phones comprise twelve layers of the printed circuit board as it is compatible with their complex circuit.
An even no of layers are assembled on a single circuitry board as an odd no of layers creates complications for the construction of circuitry.
If an odd no of layers is assembled that it not difficult to fold the board after making a connection of components.
Odd assembly of layers is also expensive.
Multilayer PCB Disadvantages
Now we describe some drawbacks of this PCB you must aware of these disadvantages with the benefit of this board.
High Cost:
Due to complicated design increases the price of this board more than the single-sided and double-sided board.
Its construction is a very difficult and time-consuming process, it also needs special techniques for construction and highly paid labor.
It one draws back that makes it costly is that during its construction any mistake can lead to aging manufacturing of it and increases the price for labor and material.
As this is a new invention for industries so some precautions are taken for its use in any project that makes it expensive.
Due to all these causes, some other less costly option is also available.
Complex Production:
Due to special manufacturing techniques, and special precautions its construction is more complicated than other PCBs.
Due to that any minor fault on this board make it wasteful.
Limited Availability:
Its main drawback is that the machines required for its manufacturing are very expensive. Almost all PCB producers do not have the funds to buy these machines.
Due to this, there are very less producers for this board production which make it expensive.
Skilled  Designer Needed:
As above we discuss that its design is very complicated so some highly skilled producers are required to construct this PCB board.
If un-skilled men design-construct this board any smaller mistake in this board can cause serious problems in the complete structure.
Creation Time:
As we discussed above its manufacturing is very complicated and needs special care so it takes a large time for its creation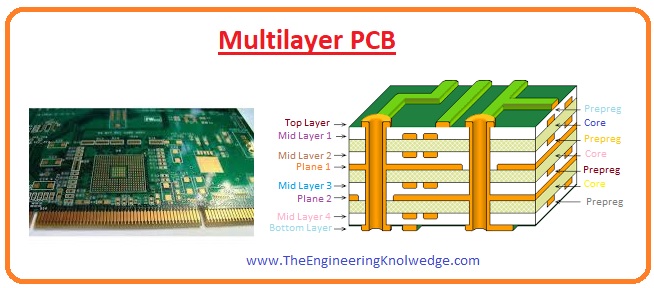 Double Sided PCB Board
The double-sided printed circuit board is also defined as a double-layer board as it provides on both side conductive paths for the assembly of components.
On this circuit board, both sides are covered or coated with current-carrying (conductive) material like copper.
The main feature of this board over the single-layer board is that on this board there is a hole through which components of one side can be connected with another side.
For the connection of components on this module, there are 2 methods used first one is surface mounted and the second one is through-hole. Both of these have their advantages and disadvantages and can be used according to the user's requirements.
In the through-hole connection technique, the small wire is passed through holes and joins different components.
But in surface mounted technique there are no separate wires used to link components but in this method the surface of the board wire is already soldered to provide conductive paths, this method provides uses less space for components assembly and decreases the weight of the board.
Construction of Double Layer PCB
The construction of this circuit board is alike to the single-layer circuit board, its construction is described here in detail.
In this circuit substrate is manufactured by glass fiber or epoxy resins, the type of base material relies on the rigidity and flexibility of the board.
In this double layer, PCB over base substance copper lamination is done to provide conductive paths for components.
To provide protection from the environment both sides of the circuit board comprise of a solder mask over the copper covering.
To have an easy understanding of the circuit board for new users, there are different symbols of components that are already designed onboard over the silkscreen that is above the solder mask.
Double-sided PCB Board Applications
Due to its simple design and ease to handle, there are some practical applications of this board that is described here.
with the use of this board in technical devices, are also employed in medical devices like X-ray machines, CT scans, and pacemakers consist of this circuit board.
In industries, this board also has numerous applications in different machines and instruments.
Different converters like analog to digital or digital to analog uses printed circuit boards for their circuit assembly.
Different control relays are also comprised of this Pcb.
In different power converter circuits, it uses.
In HVAC (heating, ventilation, and air conditioning) this board is also used.
That is all about the Difference between Double sided and Multilayer PCB boards. Further you can get quality boards from PCBWAY. Thanks for reading