Hello, readers welcome to the new post. Here we will learn Difference between CD and DVD. There is common types of optical disk used for data storage are CD and DVD. DVD has ability to store large amount data than Compact disk. There is two sided data store occurs in DVD and has polycarbonates substrates on both sides while CD has single-sided and data store on one side.
Here we will discuss different parameters to find differences among these two storage devices. So let get started.
What is CD or Compact Disc
The CD is a compact disc is a digital optical data storages device and was created by Philips and Sony.
It was the first time created in 1982 and used for digital audio compact disc.
The diameter of a normal CD is one twenty millimeters or 4.7 inches and there is six-fifty megabytes of data can store.
Its data storage ability can be enhanced to seven hundred megabytes.
There are ranges of sixty to eighty millimeters that can be used.
Its thickness is about 1.2 mm and is created with polycarbonates plastic and its weight is fourteen to thirty-three g.
The distance between the spiral loos is 1.6 micrometers.
The data transfer speed is about 1.4 to 1.6 megabits per second.
Error detection code for CD is CIRC and EFMP
The data representation for CD in form of small size modules called pits. The space between the pits is called lands.
CD can be damaged through environmental causes.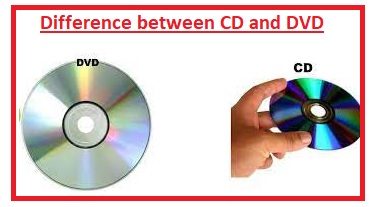 Types of CD
Advantages of CD
main benefits of CD are listed
It can work for a long time interval
It comes with the random accessing of data
Can store data up to seven hundred megabyte
The use of lasers reduces sound in it for data storing
It is a portable device
less expensive
What is DVD
The DVD stands for digital video disc and the first time was created in 1995 and used for practical work in 1996.
It has the ability to store a large amount of data than the CD.
It comes with features that prerecorded DVDaer created through use of molding machines.
This DVD called DVD ROM since has features to read data then change it.
It can store data starting from 4.7 gigabytes. and Data written with the sped of18 to twenty times.
The constructed material for this device is the same to the CD.
There is a position of metallic layers for this device is center
Pits lie on the module on both sides
Distance between loops for this device is 0.74 cm
Data Transfers speed for DVD  is 11 Mb/Sec.
Its thickness is 0.6 millimeter
Advantages of DVD
The main advantages of DVD are listed here
Files of a large amount of data in GBs can stores
Movies dramas are stored in it
Computer data also stored in it
It can store ten-time data than CD
Can be used from one device to another due to its portable nature
that is all about the Difference between CD and DVD. I have explained each and every parameter related to CD and DVD in the detail. If you have further query ask in the comments. Thanks for reading have a good day