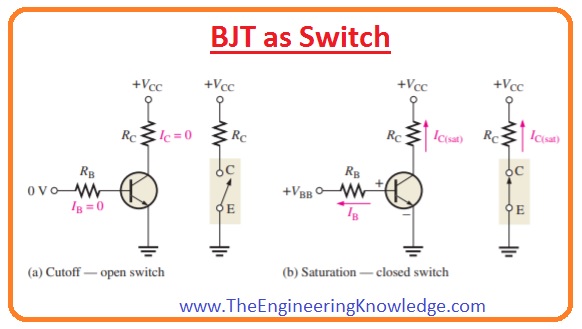 Hello dear students, I hope you all are doing great. In today's tutorial, we will have a look at BJT as Switch. A transistor is a semiconductor device has three terminals emitter-base and collector. In different electronic devices and projects, it commonly used. There are many uses of this electronic component but most common is it used as switch and amplifier. In the previous tutorial, we have discussed with the BJT as amplifier with the detail.
In today's post, we will have detailed at the use of transistor or BJT as Switch, application, circuits and different parameters related to it. So lets get started with BJT as Switch.
BJT as Switch
In the below figure the circuit shown explains the operation of BJT as a switch.
In the first circuit, the transistor is in the cutoff region because the emitter-base junction is not forward biased condition.
 In this state, there is no connection between emitter and collector of a transistor as shown like an open switch.
In the second circuit, a transistor is in a saturation state as both base-collector and the base-emitter junction is in forward biased state.
The value of base current is such large that it makes collector current such level that transistor is in saturation state.
In a saturation state, there is a short circuit between emitter and collector as it is shown in a circuit like closes switch configuration.
In real, a minor voltage loss across the transistor of up to some 10th of a volt usually exits, that is the saturation voltage, VCE(sat).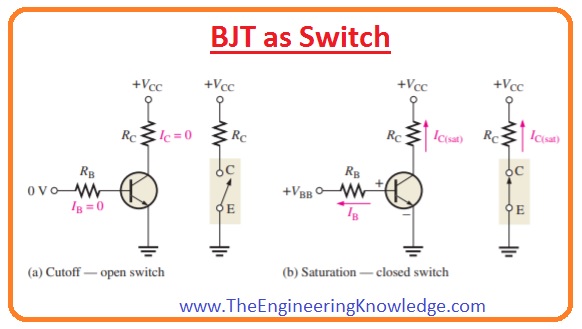 Transistor Cutoff Mode
 The state where both junctions of transistor base-emitter and base-collector are in reverses biased condition called a cutoff mode of a diode.
 In this case voltage across the base-emitter is less that does not allow current to flow from collector to emitter.
In this state, VCE is equal to the VCC.
 VCE(cutoff) = VCC
Transistor saturation Mode      
 In this mode of operation, their base-emitter junction is in forward biased condition due to that base current generated that results in the production of collector current.
The expression for saturation collector current is given here.
  IC(sat)=VCC-VCE(sat)/RC
As the value of VCE(sat) is less as compare to the VCC so it can be ignored.
The minimum value of the base current required to generated saturation is given here.
  IB(min)= IC(sat)/ βDC
Usually, IB must be significantly larger than IB(min) to confirm that the transistor is saturated.
Applications of Transistor as Switch
 Now we discuss the practical applications of a transistor operating as a switch.
Transistor Switch LED on and off
In below figure the circuit is shown that will on and off the LED.
For instance, a square wave of cycle of two seconds is provided to the circuit as input.
When the magnitude of the square signal is at zero volts transistor is in the cutoff region.
Due to cutoff no current flows through collector the led will not glow.
 When the magnitude of the square signal is large transistor is a saturation region.
This state makes led forward biased and current flows through led that glows it.
 Hence led remains on for one second and off for one second.
Transistor to Operate the Relay
To control the function of the relay transistor as a switch can be used.
For this simple circuit, arrangements are created that energizes the coil of relay and load connected with the relay is controlled.
Below figure circuit configuration to control the relay through the transistor is shown.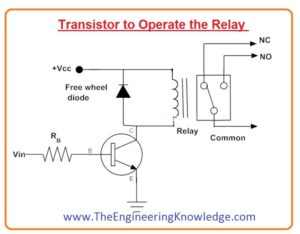 Transistor to Drive the Motor
Transistors can also be used to run and control the speed of dc motor in a single direction by using a transistor as a switch.
In the below figure circuit arraignment is shown to control the dc motor with the transistor.
As dc motor is inductive load so there is a need for freewheeling diode for protection of circuitry.
By operating the transistor in cutoff and saturation conditions motor can be on and off.
By switching transistors at different values of frequency speed of the motor can be controlled.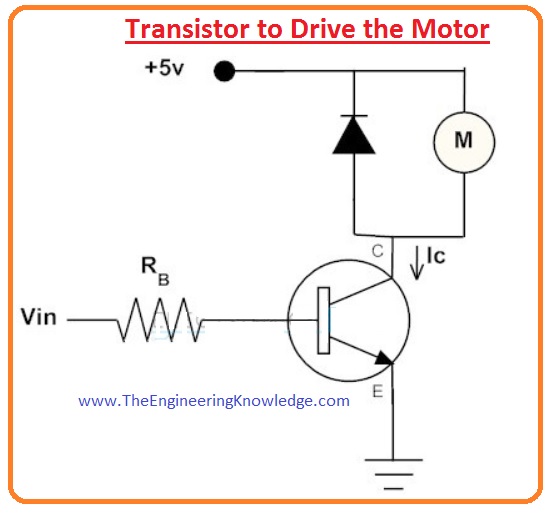 So, friends, it is a complete post about BJT as Switch if you have any questions about it ask in comments. Thanks for reading. See you in the next post. have a good day.